NYS hosts showing of Rise and Shine — Jay DeMerit Story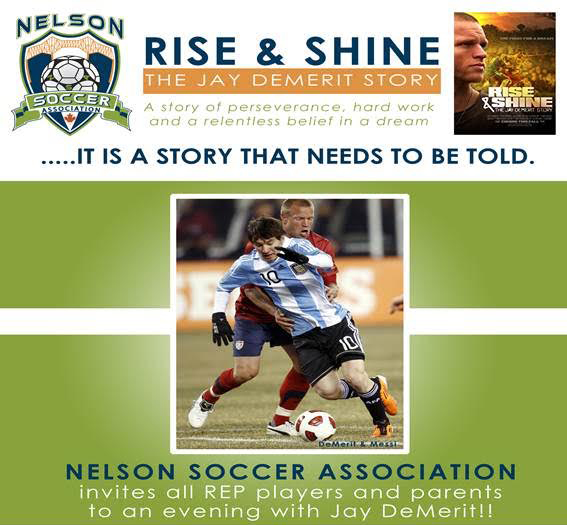 Nelson Youth Soccer is hosting a special showing of Rise and Shine, the Jay DeMerit Story, Wednesday, May 2 at the Selkirk College.
The film is a true story of Jay DeMerit, a young American's impossible journey from college to a professional soccer career.
After college, DeMerit's dream of playing pro soccer in Europe seemed unreachable. Sleeping in an attic, painting houses and eating beans and toast to survive, Jay took the most unlikely route to the top.
Not drafted by any Major League Soccer clubs out of college, DeMerit took advantage of European Union status — his grandfather was Danish — to hook up with a ninth-division team before catching on with Watford.
He played six seasons for Watford before signing a contract with Vancouver Whitecaps in 2011.
He played 71 matches for the Caps over three seasons.
Doors open at 6:30 p.m. with screening beginning at 6:45 p.m. Cost is $10 at the door, or $8 by registering online at NYS website. Admission includes two pieces of pizza and bottled water.
DeMerit will be present to take questions starting at 8:30 p.m.