Final approval given on Lakeside Place project as next housing project moves forward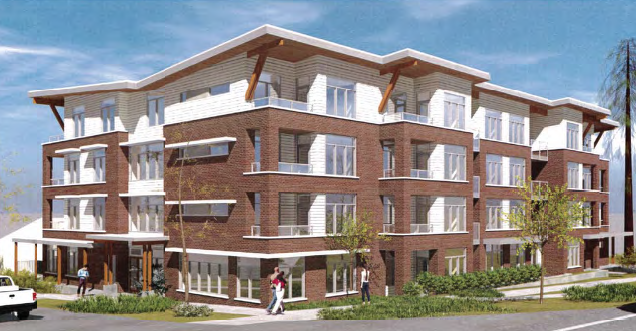 The city's next big housing project has cleared another hurdle on its way to realization.
Nelson Cares Society was able to convince city council of the merit of the plan for its 47-unit affordable housing development at 805 Nelson Ave. — despite its reduced parking — and had its zoning amendment passed, releasing any legal constraints on the project.
The society had applied to rezone 805 Nelson Avenue from MU5 (mixed commercial and residential) to CD7 (mixed commercial and residential) in order to add an additional storey of affordable rental housing on the proposed four storey, mixed-use residential and commercial development.
As well, the society asked for a decrease to the exterior setback from 4.5 metres to 2.5 m., as well as a decrease to the parking requirements from 59 stalls to 19 stalls, in order to redevelop the Lakeside Place affordable housing building.
The parking provision nearly balked council with the steep reduction in stalls. Coun. Robin Cherbo felt the reduction was too much since most seniors had at least one car, if not more.
"And parking around that area is almost impossible, as you can see if anyone wants to go to Lakeside Park. It's just packed down there. So I don't see how that is going to work," he said about the reduced parking.
But the chair of the city's Housing Committee and councillor Janice Morrison did not see the parking issue as an issue at all, and the project had the full support of the Housing Committee.
"The income level of the people the building would house was such that they would not all have vehicles," she said.
"And given the proximity of where this building is going to be built, with transportation available, its proximity to the grocery stores, we will find, even with the age being 55 and older, that there will be enough parking in there."
The society has also made accommodation for scooter and bike parking in the building.
The new project is within walking distance to stores, services and other amenities, as well as being quite close to Lakeside Park.
The development requires 24 long-term bike stalls and 28 short-term, which is being provided, along with 10 scooter stalls.
The location is also a 15-minute walk to downtown, and is adjacent to a bus stop at the corner of Nelson and Kokanee avenues.
Although the project will feature one level of underground parking, the total parking stalls will drop by 40 — from 1.25 stalls per unit to 0.4 stalls per unit.
A traffic study prepared by Bunt & Associates noted in locations comparable to Lakeside Place, the parking demand per unit ranged from 0.16 per unit to 0.50 per unit.
Other housing providers in the city are in the same range, with Anderson Gardens (37 low income units and 12 parking stalls) at 0.32
stalls per unit, and both the Mountain Lakes development and the Nelson Landing development at 0.4 stalls per unit.
The tenant base for the new building will be of a similar socioeconomic status, read a city staff report, and it was anticipated that fewer than one third will own and operate vehicles.
"They are below the economic threshold to own vehicles," noted Nelson Cares executive director Jenny Robinson. "And many of our folks age in place and no longer drive after a while."
The new face of the project
The redevelopment will involve the demolition of a 1950s era motel, a "functionally and physically obsolete building" that currently provides 20 units of substandard affordable rental housing, noted a city staff report to city council.
The four-storey, wood-frame building would replace the previous development, providing:
36 one-bedroom units sized for mobility impairment or for two-person occupancy;
six two-bedroom units for two-person households where one person may be ill or disabled; and
• five studio units for adults with physical or mental health disabilities at risk of homelessness, replacing four of the existing units that will be demolished for the redevelopment.
The units will range in size from 334 to 775 square feet including studio, one and two bedroom units. The one and two bedroom units will be targeted for low to moderate-income seniors (55 plus) who are able to live independently.
The rents for 23 of the units are expected to be below market and 24 of the units will be at the low end of the market. Rental rates are subject to change and will be finalized following the completion of the building.
In addition, BC Housing's Shelter Aid for Elderly Renters (SAFER) program may also be used to help promote affordability for low income seniors and ensure that residents do not spend more than 30 per cent of their household income on housing.
The development will also include a seniors' services and resource support centre on the first floor.
The estimated $11.3-million project will be primarily funded by BC Housing. Additional funding will be provided by Columbia Basin Trust, Canada Mortgage and Housing Corporation and the Nelson CARES Society.