Mitch Popadynetz continues to build on what has been an amazing roundball career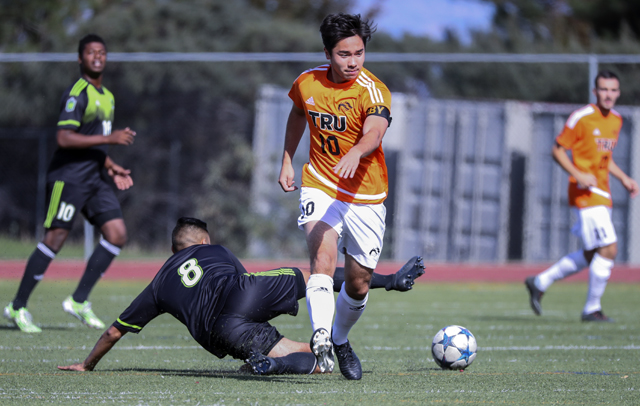 Mitch Popadynetz has been one of the most talented players to come out of Nelson Youth Soccer.
He's also turning into one of the most dominate players in Canada West Men's Soccer after leading the Thompson Rivers University Wolfpack squad to the Canada West Final Four.
The skillful Popadynetz scored once as the Wolfpack blasted University of Saskatchewan Huskies 5-1 last weekend in Saskatoon.
"I'm having a lot of fun playing with the group of guys here at TRU and we are all super excited about beating Saskatchewan and advancing to the Final 4 of CanWest," Popadynetz told The Nelson Daily from Kamloops.
Wherever the 5'10" Popadynetz lines up, good things happen.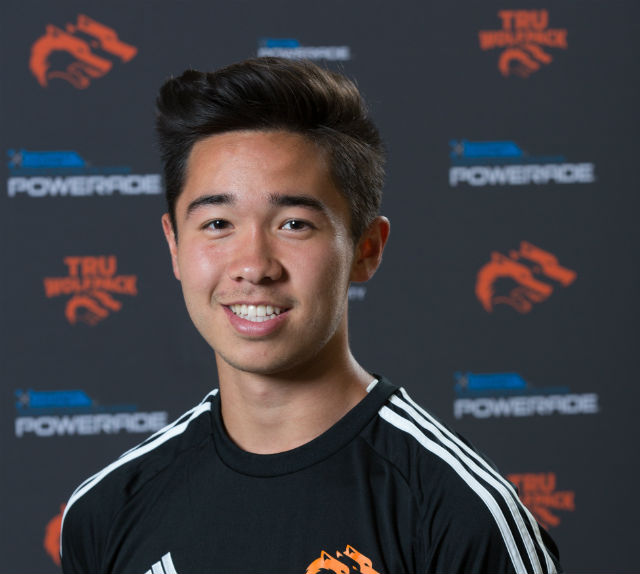 As a member of the NYS U13 Selects, Popadynetz powered the squad to a silver medal at the 2008 B.C. Soccer Provincial B Cup in Richmond, coming within a penalty shot of capturing the gold medal.
In 2013, he guided Team BC to a silver medal at the 2013 Canada Summer Games in Sherbrooke, Que.
Later in 2013, he was part of UBC's run to the Canada University Men's Soccer Championship as the T-Birds defeated Laval Rouge et Or 3-1 to capture the gold medal.
And this season at TRU is no different.
The Wolfpack, 6-3-6, clinched its first-ever Canada West playoff spot in men's soccer earlier this month with a 1-0 victory over rival UBCO Heat.
"Mitch has been outstanding for our program this year," said Wolfpack sideline skipper John Antulov.
"He is one of our Co-captains and a fantastic leader both on and off the field. He has really stepped up his game – especially this season."
Antulov said Popadynetz has been a spark offensively for the Wolfpack, leading the team with 17 points. The offensive output powered Popadynetz into a tie for first in Canada West scoring, and third overall in USport stats.
"(Mitch) help sets the tone of how we want to play and puts winning games over his own personal achievements," Antulov said.
"As a coach, I couldn't have asked for more out of Mitch this season and we know he will continue this play into the Final Four this weekend and USport Nationals November 9-12th."
Of course, playing for TRU would not have happened had Popadynetz not transferred to the BC Interior University.
"Leaving UBC was tough for me because I enjoyed my time there, especially the soccer and the guys on the team," said Popadynetz, now enrolled in the TRU Business Program with a major in Finance.
"But John and the TRU players at the time made the transition easy."
There's plenty business to complete on the upcoming schedule for Popadynetz.
His stellar season has placed him on the radar for a few individual awards, with the announcement coming out this weekend.
There's also some unfinished business on the field as TRU plays host to the Canada West Final Four next week.
The notoriety has everyone wanting to line up beside the mild-mannered NYS grad.
Even the TRU website has Popadynetz listed as his hometown being Maple Ridge.
However, Popadynetz knows his roots. And totally appreciates getting his start in Nelson Youth Soccer.
"The hometown on the website is a mistake," said Popadynetz, who has been known to make a few cameo appearances at the Nelson Youth Soccer Indoor Tournament during the Christmas Holiday Break.
"I'm born and bred in Nelson."
And coaches and teammates are happy those early seeds that were planted in the Heritage City have developed one, amazing player.