Selkirk College Music Students Unite for Final Concert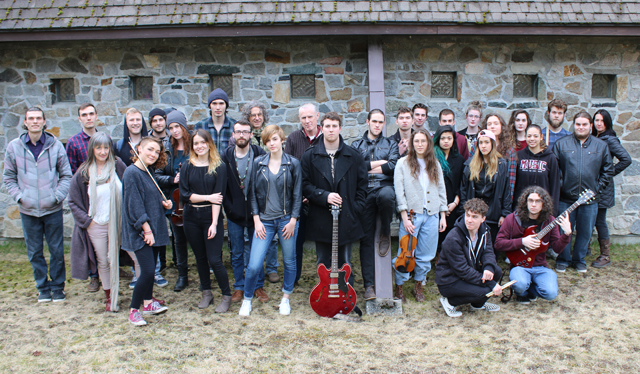 Learning has never sounded so good.
Students in the Selkirk College Contemporary Music & Technology Program will bring months and years of hard work to the stage at Nelson's Spiritbar on April 21 for the annual Year-End Celebration Show.
"There is so much good music happening with the program right now," says second-year student Carmina Boliano. "All of the ensembles are so different in terms of genre. It's going to be an entertaining night with all these people who are really passionate about what they do, coming up to show it off."
Lead by instructors who have worked with them over the last few months, the five student ensembles will present a fantastic night of music spanning a variety of genres. All money raised at the event will go towards the Rwanda partnership project that links Selkirk College to the Nyundo School of Music in Africa.
Impulse Blue is a jazz quintet that brings modern interpretations and improvisations of music by the likes of Horace Silver and John Coltrane. Rock meets electronica with the Glitch Monkeys who will combine delicious grooves and luscious vocals with high octane synth leads.
Truckstop Teardrop is the answer to southern fried prayers with a focus on music inspired by the south from classic acts like the Eagles to modern bands like The Sheepdogs. The collective Future Soul brings 21st Century soul music that is both refined and nasty. Finally, Ensemble XIII will deliver a transcendent mix of chilled nu-pop gems and raging dance party monsters.
With both first and second year students taking part in the evening of music, the event is an important final stage of the semester where the classroom meets creation.
"The music is going to be terrific, but there is more to the night," says Selkirk College Instructor Laura Landsberg.
"This show is a culmination of a lot of the learning we have done over the last few months, from organizing rehearsals to marketing the event. It's important that students have an opportunity to tie it all together in a professional show that will be highly entertaining."
As students throw their focus on semester-ending exams, the Year-End Celebration Show is one more final test for those who will be graduating at the end of the month. With diploma in hand, music students like Boliano can then put their learning to good use as they forge a career.
"Before I came to Selkirk College, I knew it would be fun but I really wasn't sure about actually having a future in music," says the 21-year-old, who will be returning to Vancouver post-graduation.
"Now I have a direction that I want to go in and I'm really excited for the next steps. I plan to write, work on a bigger set-list, perform in small venues and record an EP."
Doors open at Spiritbar in Nelson's Hume Hotel for the Year-End Celebration Show at 8:30 p.m. with the music starting at 9 p.m. Cover for the evening is $10 at the door and $5 for students.