Selkirk College Instructor Builds on Rwanda Relationship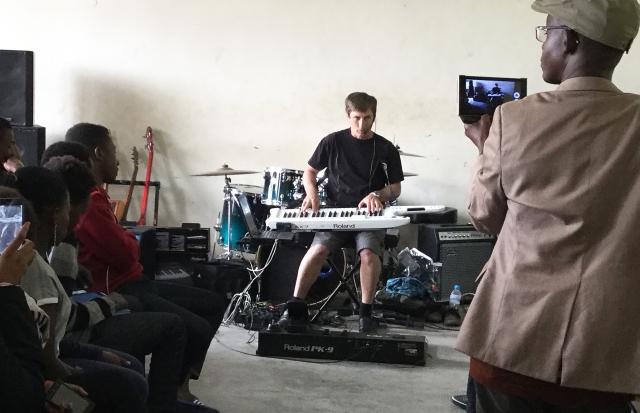 The next chapter in the growing relationship between Selkirk College and Rwanda's Nyundo School for Music has been written.
Earlier this month, Selkirk College Contemporary Music & Technology Program instructor Gilles Parenteau traveled to the African nation to spend seven days in the classroom with Nyundo students. It's the second time in a year that the veteran faculty member has made the trip to strengthen the bond between to the two institutions.
"The first visit was overwhelming, I had never been to a country like that before," Parenteau says of his April, 2016 trip. "This time I didn't go as an observer, I went as a participant. I was teaching every day and was able to bring in where our curriculum best fits with their curriculum while still respecting their direction."
The relationship began to grow in September, 2015 when Nyundo's coordinator Mighty Popo visited Selkirk College's Tenth Street Campus in Nelson with ten of his students while on a tour of British Columbia.
Mighty Popo is a Rwandan/Burundian refugee who survived the horrors of the 1994 Rwandan genocide. His family fled and he eventually established himself as one of Canada's top world music artists, winning a 2005 Juno Award for his role in a project called "The African Guitar Summit."
Mighty Popo was instrumental in starting the Nyundo School of Music in 2014 which was established by the government to encourage confidence, musical expression and professional development.
Last spring, Parenteau and three Selkirk College students made the trip to Rwanda to take a closer look and strengthen the relationship. While the group was in Rwanda they were immersed into the culture and accepted with open arms.
"When you get to know each other, it changes the way we perceive music," Parenteau says of the relationship that was written up in Maclean's magazine's "2017 Colleges Guide: Education for the Real World" edition and The Nelson Daily.
"It's not so much learning new scales and theory, but they come from a different angle and it rubs off on us. It's the same for them. When that takes place, only good things can happen."
In the Nyundo classroom, Parenteau focused on several different skills, including reading music as part of performance. Mighty Popo and other instructors at the school observed Parenteau's teaching style as part of the sharing of information.
Parenteau also took part in three public performances, one for the school and two night club gigs where he played with both students and Mighty Popo.
"It was just a blast," says the keyboard instructor. "They sure know to groove and they appreciated what I had to bring."
With Selkirk College currently the only outside post-secondary looking to further build the relationship, the partnership is set to grow in future years. There is currently talk about a group of Nyundo students making a return to Canada to spend more time at Selkirk College than 2015's two-day visit.
In mid-March, the Nyundo School of Music held its first graduation ceremony with 30 students of the three-year program taking part in a community celebration that included musical performances. With support and encouragement from the Rwandan government, the school is generating a lot of interest with more than 800 people applying for 30 seats each year. The growing success is creating talk of more music schools in the country.
"One music program for a whole country… that's not much," says Parenteau, who has taught at Selkirk College for 27 years. "Popo has big ideas where this can go and I am hoping that we can be involved in some way to helping him succeed."
An example of one of the projects the schools have worked on over the last few months is a video featuring both Nyundo and Selkirk College students singing their national anthems. It can be found on YouTube by searching "Rwanda Canada Anthems."
To continue to grow the relationship through exchanges, the Selkirk College Music Students International Program Award has been set up. If you would like to contribute to the effort please call Selkirk College Donor Relations Coordinator Joleen Kinakin at 250.365.1360 or via email at jkinakin@selkirk.ca
For more information about the Selkirk College Contemporary Music & Technology Program, you can visit: http://selkirk.ca/program/music.
PHOTO CUTLINE 1: