Selkirk College Saints Thump Eastern Washington University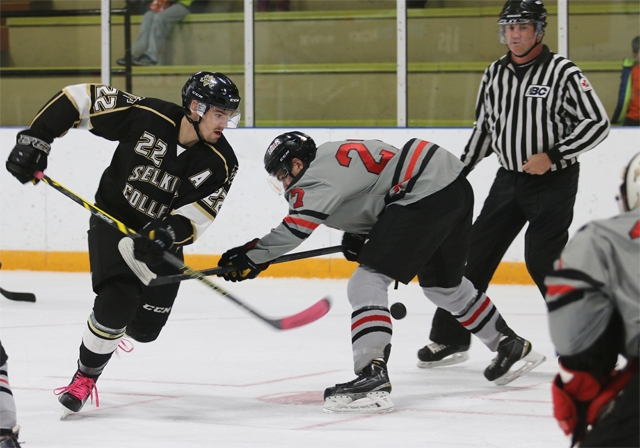 A four-goal second period outburst helped the Selkirk College Saints to a 6-1 Saturday night win over the Eastern Washington University Eagles.
The four-time defending British Columbia Intercollegiate Hockey League (BCIHL) champion Saints hosted their regional rivals at the Castlegar & District Recreation Complex for their only contest of the weekend. The Saints were looking to stay within striking distance of first place in the league, while the Eagles were still searching for their first victory of the season.
Rookie Saints forward Jack Mills started the scoring six minutes into the first period when he notched his sixth goal of the season. Despite out-shooting the Eagles 20-12 in the opening 20 minutes, the visitors managed to tie the score at ones with less than a minute left when Uriah Machuga beat Saints starter Austin Wells.
Matt Martin gave Selkirk College the lead five minutes into the second period when he scored what would eventually be the game-winner. With just under four minutes left in the middle period, the Saints received goals from Dallas Calvin, Alex Milligan and Nathan Browne to make the score 5-1.
Wade Johnson notched the lone goal of the third period as the Saints picked up their seventh win of the season and remained one point back of league leading Simon Fraser University.
The Saints now travel west this coming weekend for two important games against Trinity Western University and Simon Fraser. With all three teams within a point of each other atop the standings, it will be a key moment in the first half of the season.
The Saints return home to the Castlegar & District Recreation Complex on Friday, December 2 when they take on Trinity Western in the final game of the Fall Semester. The puck drops at 7:05 p.m.