Defending champ Jim Cotter rolls into A semi final at Canadian Direct Insurance BC Men's Curling Championships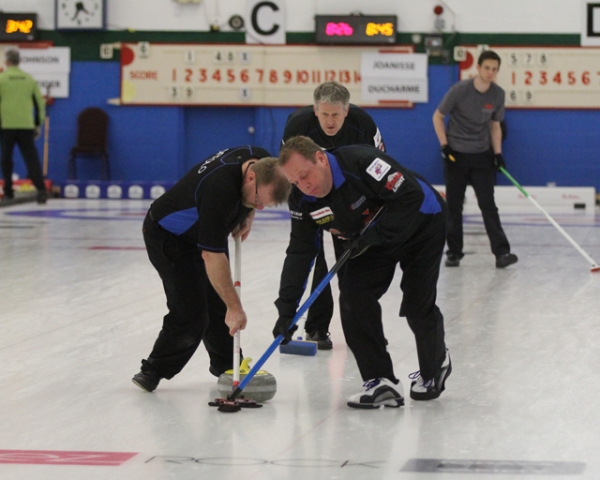 It took defending BC Champion Jim Cotter a few ends to become familiar with the surroundings of the Nelson Curling Club.
However, after a couple of ends it was full steam ahead for the Vernon foursome during Day One of the 2016 Canadian Direct Insurance BC Men's Curling Championships.
Cotter, third Ryan Kuhn, second Tyrel Griffiths and lead Rick Sawatsky ran the table to advance into the A semi final Thursday.
The Vernon rink doubled Will House of Richmond 6-3 in Draw 1 before dominating Chase Martyn of New Westminster 9-2 in the afternoon.
"Absolutely, you want to start 2-0," Cotter said minutes after scoring four in the eighth end to secure the win Wednesday.
"The goal at the end of the week for every team here is to make the playoffs, and that's our goal too. So getting off to 2-0 is a good start for us but there's a whole lot of curling to go yet."
Joining Cotter, who curled 91 percent to 70 for skip Martyn, is on the ice Thursday morning in Draw 4 A semi final against Glen Jackson of Victoria.
Jackson, third Andrew Komlodi, second Corey Chester and lead Joel Cave, edged Tom Buchy of Kimberley 4-2 Wednesday afternoon in a tightly played contest.
Jackson broke open a 1-1 tie with singles in the seventh and eighth ends.
Buchy got one back in the ninth, and was in position to steal a single in the tenth before Jackson bumped off Buchy's shot stone to score one as the Kootenay rep desperately tried to force an extra end.
Buchy opened with an 8-3 win over Mark Longworth of Vernon in eight ends.
Jackson opened the day edging Jeff Richard of Kelowna 6-5.
The other top seed in the championships Dean Joanisse of New Westminster outlasted Kootenay rep Chris Ducharme of Creston 5-2.
The third draw goes Wednesday at 7 p.m. with Joanisse against Michael Johnson of New Westminster and Sean Geall of New Westminster meeting Wes Craig of Victoria. Both winners advance into the A-event semi final.
B-event action has House meeting Jason Montgomery of Victoria, Richard against Mark Longworth of Vernon and Daniel Wenzek of Langley against Neil Dangerfield of Victoria.
The Wenzek rink recruited Nelson's Fred Thomson to the rink for the championships because team member Tyler Tardi is curling in the Youth Olympic Games in Norway.
Action continues Thursday with three more draws, including the A-event final at 7 p.m.
The winner advances at the top seed in the Page Playoffs.