New rules help B.C. residents get out of debt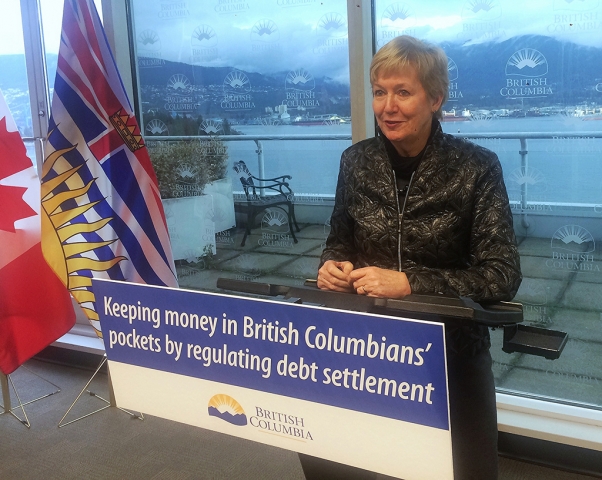 Getting your finances back on track should not leave you penniless.
To help British Columbia residents crawl out from under those mountains of debt, the province is following through on a commitment to regulate the debt settlement industry, making sure individuals and families can pay what they owe, without being taken advantage of.
"British Columbia families and individuals need to be confident that when they are making tough money decisions, they're getting the right advice and that they have certainty over what they're being charged," said
Minister of Justice Suzanne Anton.
"These new regulations will help those people in debt understand their rights, and help ensure they do not get taken advantage of during a vulnerable time in their life.
"These changes will also help keep as much money as possible in the pockets of British Columbians."
When changes to the Business Practices and Consumer Protection Act (BPCPA) come into effect April 1, 2016, B.C. residents will benefit from additional cost certainty and having the guesswork taken out of debt repayment rules.
Specifically, the Province is restricting the fees debt settlers can charge. This means companies cannot charge those in debt for negotiating a settlement until the creditor and the debtor have agreed on the terms of repayment. Prior to this change, some companies would charge large, non-refundable fees up front in order to negotiate a lump-sum payment.
"These changes are needed in British Columbia. We know that debt can put an enormous amount of stress on people, particularly families," said
Scott Hannah, president and CEO, Credit Counselling Society of BC.
"The new rules mean families and individuals facing financial strain are able to make informed choices about their money and debt repayment. We at the Credit Counselling Society look forward to employing these regulations while we work to help B.C. residents become debt-free."
Consumers were often encouraged to stop paying their debt on the expectation of making a lump sum payment to their creditor, while paying negotiation fees to the debt settlement agent instead. This would cause some people to miss payments, further damaging their credit score.
As of April 1, 2016, debt settlement companies will now only have two options restricting how much they can charge for fees:
If the debt will be repaid within 90 days, debt agents may only charge a fee of up to 10% of the total amount of debt being repaid.
If you need 90 days or longer to repay your debt, debt settlement companies may charge a fee of up to 15% of the total amount repaid, plus a one-time service fee. The service fee can be no more than the cost of one average monthly payment.
These companies will now also have to be transparent about the risks associated with debt settlement. All contracts will be required to contain a disclosure statement indicating that, while the debt may go away, the debt settlement process will not improve their credit rating.
Under the old system, some companies would counsel customers to avoid calls from creditors. This can make the situation much worse and debt settling agents will be prohibited from providing this advice.
"The new rules just make sense," said Blair Mantin, VP of Sands and Associates, Trustees in Bankruptcy.
"They mean everyone will be on the same page about what the rules are, what consumers can be charged for, and how much. So many times I hear from those in financial distress that high fees charged to manage their debt are what have kept them in debt."
Quick Facts:
B.C's rules will align with those already in place in other parts of the country.
Since 2010, Consumer Protection BC has received an average of 85 inquiries per year about debt settlement companies. Most questions relate to business license status, legitimacy of the business, and fees for contract cancellations.
Debt settlement through third-party companies differs from traditional debt pooling services. Debt pooling means customers continue to make regular payments, instead of one lump-sum, at a reduced-interest rate and a schedule that debtors can manage.
The BPCPA also regulates:

Bailiffs (act or assist on behalf of another person to repossess or seize personal property or evict a person from a property);
Collection agents (represent the creditor); and
Debt poolers (represent the debtor).