Nelson Police Department looks within to find new chief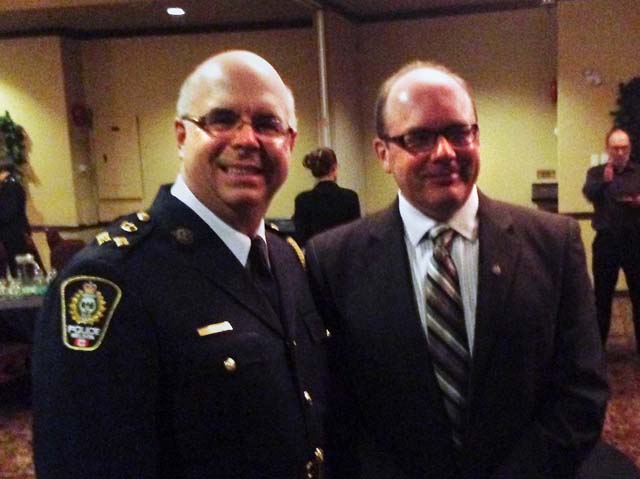 There's going to be a new presence on the downtown streets of Nelson starting in the new year.
Nelson Police Department officers will be moving to the beat in the downtown core next year — starting in January — getting back to the basics of policing with foot patrols, restoring one of the original roles to the venerable force.
The move to reenact foot patrols in the downtown will be one of the first acts of newly appointed chief of police Paul Burkart. On Monday night Burkart was named as the new chief of police of the Nelson Police Department, replacing retiring chief Wayne Holland.
The former deputy chief inspector was revealed as the next captain of the municipal police force at the City of Nelson's annual reception in the Prestige Lakeside Inn.
For Burkart, he chose Nelson for his family 15 years ago and has now been rewarded for his work on the force, as well as in the community, in being named the city's top cop.
"To be provided the opportunity to be the chief here is a real honour and a privilege," he said, giving homage to outgoing chief Holland for his mentorship.
Burkart said he won't be making many immediate changes to the way policing is delivered in the city, save for the institution of a full time beat officer in the downtown core starting in January.
"It's something we felt we had missed for a while," he said.
 
Follow the money
Cash will be a hot button topic for the start of Burkart's tenure. A new contract is set to be negotiated for the city's officers, but so is a decision on the police board's request for an extra $310,000 in next year's budget — a cost needed for two more officers, to handle a growing caseload, and one administrative staff.
The NPD is typically ranked first or second in the province for caseload per officer, Burkart said. But, even still, around 70 per cent of what police officers do in Nelson is not recorded in the statistics on record, said Burkart, such as dealing with calls for service that involve people with mental health issues.
"Our officers aren't getting credit for that, it's just something we do on a regular basis," he said.
 
A smoking issue
Dispensaries are one of the more gray issues the city's police force has been dealing with for years, said Burkart. Currently, there are five known dispensaries operating in Nelson, with rumours of two more looking to start up.
He said police will be working with all levels of government to enforce whatever regulations are coming down, from decriminalizing marijuana to legalizing it.
"But we'll be in the gray area for some time yet because I don't think it will be a simple process," he said. "I can see police stepping back a little bit and more of the city's and the provincial governments stepping in for more of that regulation part of it, rather than the police really enforcing the laws like they used to."
Burkart hoped the gray area would disappear at some point and the issue would become more black and white.
Three years ago the city's force was accused of having more marijuana-related charges laid than any other city its size. Burkart did some research into the nature of the files and he found NPD officers did more enforcement — production, trafficking — but that has coincided with a drop in grow operation busts in the last few years.
It was over three weeks since the department's last bust, one of the few in 2015, he said.
"We felt that one put children at risk," he said, so a warrant was issued.
 
Tale of the tape
Burkart started with the NPD in 2000, after serving five years in Calgary in patrol, the drug section and the serious habitual offender program.
In Nelson he moved from patrol to fulltime beat officer's position, in which he worked for two years. In 2006 he was given the deputy constable's position in the general investigations section.
He was promoted to sergeant in 2011, working in both patrol and the general investigations section. Two years later he obtained the rank of inspector, and was promoted to deputy chief in 2014.
Burkart has a bachelor of criminology from the University of Ottawa, and a master's degree in industrial relations from Queen's University, with majors in labour law and human resource management.
In Nelson, he has served on many community boards, as well as teaching the D.A.R.E program in Nelson schools for over 10 years. He has been a minor soccer coach for the past 11 seasons.