OP/ED: BC Government patronage appointments mean little or no push back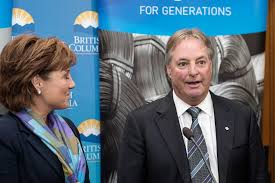 New York Senator William L. Marcy could have just as easily been referring to B.C. in 2015 – and not the 1828 victory of the Jackson Democrats – when he boasted "to the victor belong the spoils."
Even he would have marvelled at the spoils available in B.C.
Other provinces have their Crown corps and spots on various boards to reward the party faithful, but the B.C. government has taken it to a whole new level.
The government makes appointments to the boards of more than 300 public agencies and for a few key ones every single spot on the boards.
From health authorities to administrative tribunals, colleges to police boards, it's patronage heaven.
When the biggies are announced – like Brad Bennett's ascension last week to chairman of the board at BC Hydro – it'll make a splash, not so with appointments to the Integrated Cadastral Information Society.
Managing to keep a straight face, Premier Christy Clark called Bennett's new post "essentially volunteer work." Some may differ with Clark's concept of volunteering.
BC Hydro's board met 21 times in 2013/14, with the 13 directors racking up $192,750 in meeting fees and $227,000 in retainers.
The chair, Stephen Bellringer, pocketed $67,625. Bennett went home with $32,125, plus $15,724 in expenses.
Total board expenses rang in at $61,315, which isn't so bad when you consider that one director lives in Boston, Massachusetts.
TransLink's board must be one of the coveted "I've died and gone to heaven" appointments.
The chair pulled in $100,000 last year and that's a part-time gig. One director made $59,900, roughly what someone working at minimum wage would earn over three years.
All in, TransLink's board cost $573,201. Presumably, that's what you have to pay to get the not so seamless introduction of the Compass Card and its unanticipated single-zone fare system.
Many appointees donate generously to the B.C. Liberals. BC Hydro's Stephen Bellringer always manages to scrape up $7,500 for the party every year.
The bigger surprise is that some of the agencies donate as well.
The Chicken Marketing Board gave $3,900 to the Liberals between 2005 and 2014, the Milk Marketing Board $2,000, and the Association of B.C. Forest Professionals $5,500 ($2,700 to the NDP).
There also seems to be a dearth of talent. A few appointees have worn more than one hat over the years, sometimes at once.
One frequent appointee, Brenda Eaton, has served on the boards of the B.C. Real Estate Foundation, B.C. Safety Authority, BC Hydro, Powerex, was the chair of B.C. Housing, and is now on the board of TransLink.
The CEO of the Northern Development Initiative Trust – which is one of the agencies the government appoints directors to – has herself been appointed to the board of BC Hydro.
One chaired two boards, sat on two more – all at the same time – collecting $442,728 in fees along the way.
Some boards offer a refuge for ex-MLAs to wile away the days. John Les and Jack Weisgerber are two who have found a second wind, and a second paycheque.
What's in it for the government, beyond sharing the fruits of power? Little or no push back and micro-control.
Remember the deafening silence from university board of governors over the government's plans to redirect a greater chunk of advanced education funding to training for high-demand jobs without actually spending more money.
Don't like what's going on at Fraser Health? Fire the chair, as Health minister Dr. Terry Lake did in 2014.
Threaten another transit referendum if the Mayors' Council on Regional Transportation tries to go ahead with mobility pricing, as TransLink Minister Peter Fassbender did this week.
Lip service to local autonomy.
When the government appoints a majority of the board – as it does with colleges, universities and health authorities – it puts them in the unique position of both allocating budgets and having the final say on how they're spent.
Lest there be any confusion over who's really the boss, Crown corporations are permitted to have separate boards for their subsidiaries, but directors are only appointed "after approval from Cabinet."
One piece of good news: the government may still be searching for an Honourary B.C. Wine Envoy.
Dermod Travis is the executive director of IntegrityBC. www.integritybc.ca
The story originated at The Nelson Daily