Stores To Shores Weekly Update: Wow, take a look at Hall Street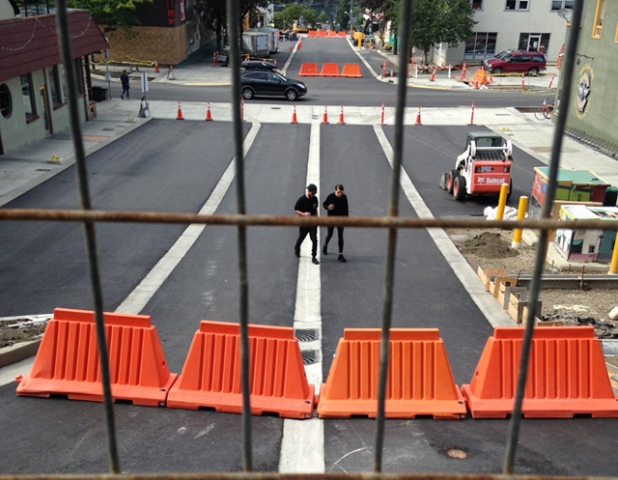 The end is near for the 400 and 500 blocks of Hall Street as the City of Nelson's Stores To Shores Downtown Revitalization project concludes stage one.
In a City of Nelson media release, asphalt has been laid on the 500 Block of Hall Street along with the Social Steps and staircase adjacent to IODE Park all but completed.
That means businesses like Bibo's, Gericks, Boomtown and Sidewinders are ready to return to business as usual as work crews concludes a bit of concrete work, landscaping, line painting and the instillation of signs.
The media release said the 400 Block looks dramatically different too, with a layer of asphalt on the street and a little more concrete banding needed to be poured for the bulb outs at the Pharmasave and Lordco corners of Hall and Baker. 
"Pedestrians may notice that the concrete sidewalk adjacent to the Nelson Commons construction site (east side of 400 Hall Street) is not complete yet as crews are holding off to allow for important concrete work to occur on the bustling Commons site," the release said.
City staff would also like to remind motorists traveling the intersection of Hall and Vernon Street that paving can take place this week. 
Concrete curbing on the north side of the intersection adjacent to Findlay's is also planned for this week.
This week's work leaves the 300 block of Hall Street as the focus for work crews, witih the instillation of water, storm sewer and sanitary sewer infrastructure.
"Keep an eye open too for new signs at the bottom of Hall and Front — reminding everyone that Hall Street business's need your support, so please, take an extra few minutes and drop by one of the neighbourhood's terrific retail, dining or cafe venues," the release said.