Nelson Fire crews keep truck fire from spreading to forests on Bealby Road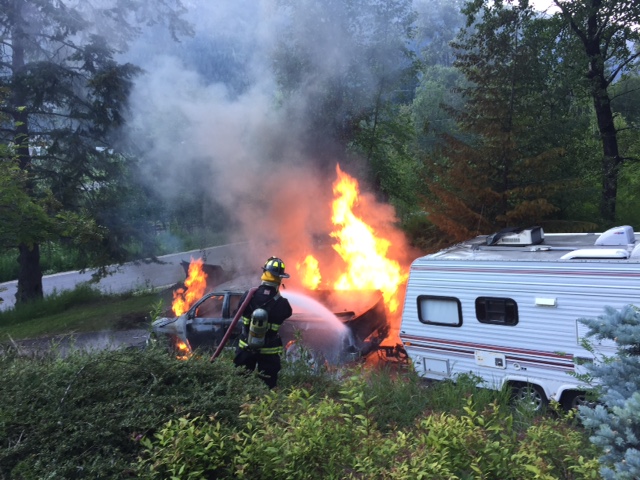 Rapid response by the Nelson Fire Department prevented a truck fire from spreading near a home on Bealby Road Monday evening.
NFD dispatch received a call at 6:29 p.m. Monday of a vehicle fire at 2080 Bealby Road.
The owner of a 2010 Dodge Ram truck was backing an attached travel trailer up the steep driveway when the fire started in the engine.
Both on-duty members along with additional firefighters responded to find the pickup engulfed in flames.
Crews, initially concerned about the propane tanks on the front of the trailer, focused their attention to slow the spread of the vehicle fire and ensure that the propane tanks did not get heated.
However, the fire had started to spread to the forested area as well as the travel trailer that was attached to the vehicle before crews doused the forest nearly 3000 gallons of water to suppress this fire.
Approximately 270 square feet of forested area was burned as well as a few trees.
The fire appears to have originated in the engine compartment of the pick-up truck.  
The pick-up truck was destroyed with fire damage to the front of the trailer and smoke damage inside.  
Nelson Fire Rescue responded to the incident with two fire engines, one tender truck, and one utility vehicle.  No injuries were reported as a result of this incident.  Damage is estimated at $35,000. 
The Nelson Police Department and RCMP responded and assisted with scene safety by controlling the traffic. 
The cause of the fire is still under investigation.
Nelson Fire Rescue Services would like to take this opportunity to remind everyone to ensure that their vehicles are properly maintained and to avoid parking hot vehicles on or near combustible material including dry grass.