New outdoor sculptural art has public dancing in the streets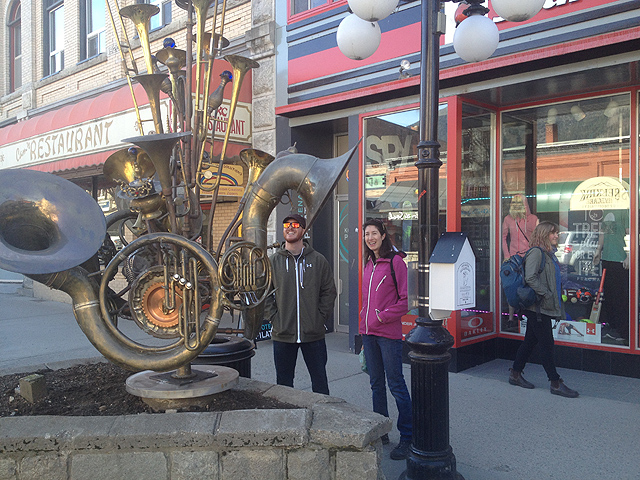 The next round of outdoor sculptural art was unveiled this week on Baker Street as Public Works crews got rid of the old for the new.
One piece of art located outside the front door of Mallard's Source for sports in the 500 Block of Baker Street is gathering plenty of attention from the public.
The musical horn display has many shoppers and businesses owners alike stopping to take a second look.
Nelson's Cultural Development Officer Joy Barrett, said the downtown sculpture program was developed on the advise of Nelson citizens who helped create of the City's Sustainable Waterfront and Downtown Master Plan.
The program has proven to be a very cost-effective way to increase public art in the community, amounting to just one tenth the cost of outright purchasing the art.
This initiative has been championed by the City of Nelson's Cultural Development Committee (CDC), which is dedicated to the development, promotion and enhancement of Nelson's art and culture sector.
The five new sculptures installed in the downtown core include:
 
 "Jelly" by Nathan Smith (Nelson, BC)
 "Zodiac Totem" by Pokey Park (Tucson, AZ)
 "Song of a Flying Dutchman" by Kyle Fokken (Minnesota)
"76 Trombones" by Douglas Walker (Black Creek, BC)
 "The Kiss" by Serge Mozhnevsky (Coquitlam, BC)