Nitros snap long drought by capturing KIJHL Championship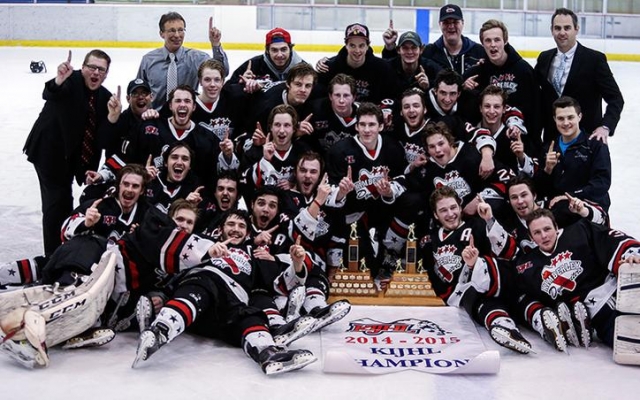 The top song of 1979 was My Sharona by The Knack.
That same year the Montreal Canadiens won the Stanley Cup and the Boston Bruins retired Bobby Orr's Number "4".
That was also the last time the Kimberley Dynamiters won the Kootenay International Junior Hockey League Championship.
The Nitros snapped the 36-year drought by ousting the Kamloops Storm 4-2 in the best-of-seven KIJHL Final Sunday in Spoolmak Country.
Four players each had two points to spark the Dynamiters to a 5-1 series-clinching win.
The victory came on the heels of a thrilling 3-2 overtime win Friday in Kimberley.
Trevor Van Steinburg scored twice and Jordan Busch, Justin Meler and Jason Richter each had singles to lead Kimberley.
Busch, Braden Saretsky, and Richter also finished with two points.
The story of the game, and most of the playoffs, was the play between the pipes by goalie Tyson Brouwer.
The native of Lethbridge, Alta. stopped 33 of 34 shots in the game to register his 16th win of the playoffs for Kimberley in 20 games.
During the playoffs Brouwer had a 1.78 goals against average and a .949 save percentage to finish second to Brock Lefebvre of Columbia Valley.
The big difference is Lefebvre played only three games to 20 for Brouwer.
Kimberley now represents the KIJHL at upcoming Cyclone Taylor Cup April 3-6 in Mission.
The KIJHL is the defending champion after Beaver Valley Nitehawks won the title last year in Nelson.
Kimberley opens play Friday against the host Mission City Outlaws.