Kootenay/Columbia NDP ready to tackle Harper Conservative plan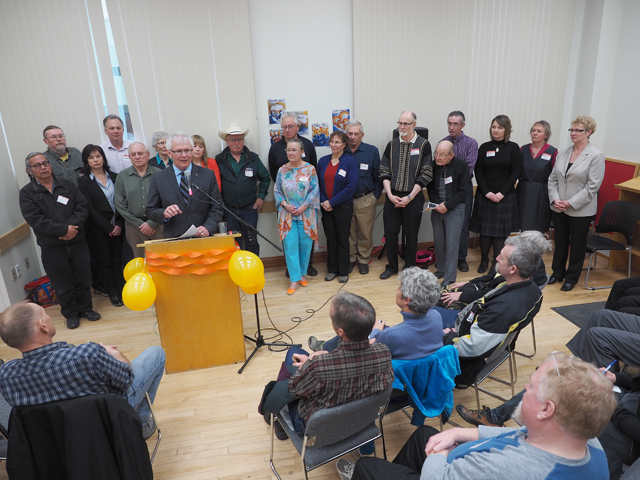 Voting day is more than six months away, but already members of the Kootenay Columbia NDP are in full swing trying to oust Conservative MP, David Wilks and Prime Minister Stephen Harper.
A full house of supporters attended Campaign Kick Off in Cranbrook Sunday (March 15) with candidate Wayne Stetski voicing what he's heard already from constituents.
"The message sent by the people of this area was clear," Stetski told a packed house of supporters in Cranbrook.
"People reject the Harper Conservative plan for Canada and they are going to work to make a change in the next election."
The Green Party candidate is Bill Green while the Liberal Party has not yet selected its candidate.
 
Traditionally, party nomination events are a time when only members of the political party gather, but Stetski was determined that the official start of his campaign would include a wide cross-section of the community.
 
The event featured a World Café issues forum where participants were able to bring their thoughts and ideas forward on a range of topics from democratic reform to building a sustainable economy.
 
"I want to be the next Member of Parliament for Kootenay Columbia, and in preparation for the role, I need to hear from everyone," said Stetski. 
"The current MP has clearly stated that he can only vote the way Stephen Harper tells him to, even if his constituents disagree.  That's not good enough for the people in this area."
 
During the Campaign Kickoff ceremony, Stetski received the endorsement of a number of key regional political figures including the current MP for BC Southern Interior Alex Atamanenko, MLA for Nelson Creston Michelle Mungall, MLA for Columbia River Revelstoke Norm Macdonald, MLA for Kootenay West Katrine Conroy, and former MLAs Ed Conroy and Anne Edwards.
 
"Wayne has the qualifications and experience to be a great MP for Kootenay Columbia," said Atamanenko.
"He has always been committed to public service and has spent his whole life working on behalf of the environment. For those that want to stop Harper's systematic destruction of our country, Wayne is the only choice."
Michelle Mungall was also proud to endorse Stetski as the NDP candidate.
 
"Wayne has what it takes to be a stellar Kootenay MP.  He knows every corner of the region and gets what's important to us," said Mungall.  "He will bring our values and voice to Ottawa."
 
Stetski was also endorsed by two prominent environmental scientists, Dr. David Schindler and Dr. Suzanne Bayley.
 
As the former Kootenay Regional Manager for the BC Ministry of Environment, Stetski is very familiar with the large riding of Kootenay Columbia.  Stetski oversaw staff and offices in Cranbrook, Nelson, Revelstoke and Invermere.
 
"There is a sense of determination that I am seeing in the people who joined our campaign today," said Stetski. 
"It's the same level of determination that caused so many people to attend the Defend our Freedom rally in Nelson on March 14th, along with thousands of others across the country, to protest the Conservatives' Anti Terror legislation C51, a bill that will result in the diminishment of our freedoms.
 
"People across Kootenay Columbia are saying no to Stephen Harper's Conservative agenda, and are ready to work as hard as it takes to ensure that we send a strong NDP voice to Ottawa after the next election."
The next Federal Election is scheduled to occur on October 19, 2015.