Vernon's Cotter needs extra end to edge Joanisse in final of BC Men's Curling Championship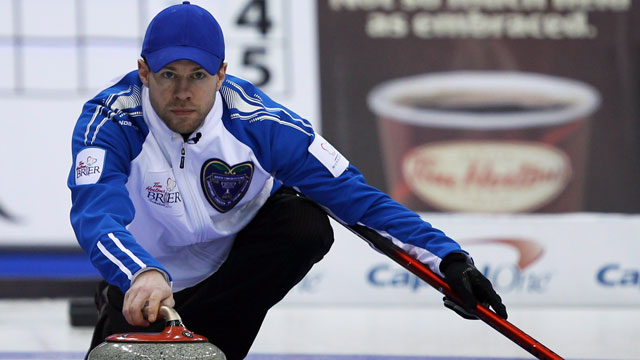 Jim Cotter of Vernon made a draw to the button to capture the Canadian Direct Insurance BC Mens' Curling Championship Sunday in the Central Okanagan City.
Cotter, third Ryan Kuhn, second Tyrel Griffith and lead Rick Sawatsky, defeated Dean Joanisse of New Westminster 7-6 in 11 ends to claim the Men's Provincial Title.
The win avenged a loss to Joanisse in the first round of the Page Playoff.
Joanisse won that game 8-5.
The final was a seasaw affair with the lead exchanging hands several times.
Cotter, leading 6-5 in the ninth, held Joanisse to a single point in the tenth to force the extra end.
Cotter, who defeated Brent Pierce in an extra end in Saturday's semi final, advanced to the playoff round by winning the A event with a 5-3 win over Kimberley's Tom Buchy.
Cotter built up a 5-2 lead after eight ends. Buchy, the Kootenay rep at the provincial championship, scored a single in the night before Cotter ran him out of rocks in the tenth.
Buchy lost in the B event to Joanisse 8-6 before being eliminated by Brent Pierce of Kelowna 8-3 in the C event.
Cotter, who played in the 2014 Tim Horton's Brier as a third to skip John Morris, is now heading back to the Canadian Men's championship as a skip.
The 2015 Tim Hortons Brier will be held from February 28 to March 8 at Scotiabank Saddledome in Calgary, Alberta.