Leafs restore power to power play to dump Spokane 5-1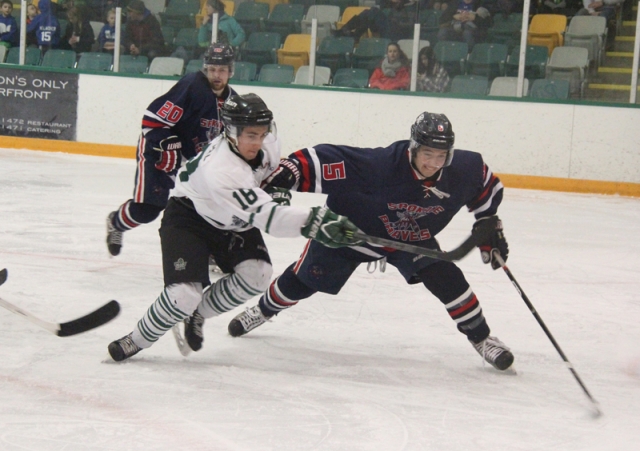 A bit of tweaking to the power play proved to be the difference as Nelson struck for three extra-strength goals en route to a 5-1 Kootenay International Junior Hockey League victory over the Spokane Braves Saturday night at the NDCC Arena.
The win was the first in a home-and-home series between the two Murdoch Division clubs.
The rematch is Sunday in the Lilac City.
Trailing 1-0 after one period, Nelson went to work in the second frame, scoring two special-teams goals to take over the game.
"I like the way we worked out power play tonight," said Leaf coach Dave McLellan.
"We re-worked (power play) this week. . .. I like the fact we had traffic at the net and battled hard throughout."
"We dressed three lines, but really only played two-and-a-half for most of the game," McLellan added. "So you've got to give our guys a lot of credit for tonight's win."
Rayce Miller scored twice to spark the offence — both goals coming on the power play.
Matt MacDonald, on a highlight reel goal, unassisted, Timothy Nichols and Sam Weber also scored for Nelson.
Sean Collins gave Spokane a 1-0 lead.
Nelson out shot the Braves 46-38 in the game to make a winner out of Leaf netminder Joey Karrer. The lone goal came off a teammate's skate late in the first period.
Nelson, 22-10-2-1, remains five points behind Murdoch leading Beaver Valley Nitehawks.
The defending KIJHL champs, which suffered a 2-1 road loss Friday to Spokane, pounded Grand Forks 12-3 Saturday in Fruitvale.
BLUELINES: Nelson played the game with only 14 skaters, including Kootenay Ice affiliate player Ainge McGeady Bruce. The Leafs hope to have defenceman Patrick Croome and winger Dylan Williamson back in the lineup next week. Forward Michael Rand, out of the lineup with a chest infection, could be back for Sunday's game in Spokane. . . .Leaf coach Dave McLellan continued to work the phone right up until the BC Hockey roster midnight deadline Saturday with no luck.