Injury-riddled Leafs face test against Murdoch leading Castlegar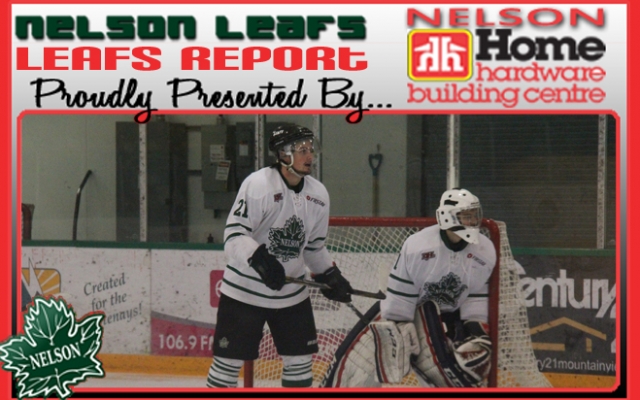 How long can the Nelson Leafs keep winning with an injury-depleted roster of players?
Hopefully a little while longer as Leaf coach and GM Dave McLellan continues to work the phones looking for prize prospects to fill in the injury-depleted lineup.
Nelson managed, with the help of a few affiliate players from the Kootenay Ice of the BC Major Midget Hockey League, to keep pace in the Murdoch Division by edging the Grand Forks Border Bruins in overtime during a Kootenay International Junior Hockey League mid-week Murdoch clash in the Boundary City.
But the Bruins are last in the division and the first-place Castlegar Rebels, winners of four straight games, are next up on the schedule — with a home-and-home series beginning Friday in the Sunflower City.
The return contest is Saturday at 7 p.m. in the NDCC Arena.
"I think we outplayed (Castlegar) the last time we played them," said McLellan. "We just had a couple of soft goals early but after that we controlled the game so I hope we can pick up where we left off."
"However, it's undetermined what our lineup is going to look like with all the injuries but we'll just adjust our systems to fit our lineup," McLellan added.
Nelson, trailing the Rebels by one point in the Murdoch standings, will need to control the KIJHL's leading scorer Bryan Lubin, who leads the league with 23 goals and 21 assists.
Lubin, who had a six-game point streak snapped Tuesday against Spokane, holds a five-point lead over Rainer Glimpel of Osoyoos Coyotes.
Nelson's top scorer is defenceman Robson Cramer, with 13 goals and 18 assists.
Cramer scored the overtime winner Tuesday against Grand Forks.
Leafs get roster help with acquisition of D-man
Nelson coach Dave McLellan acquired another defenceman for the Leafs earlier this week in a deal with the Columbia Valley Rockies.
Coming to Nelson is 6'6", 220-pound defenceman Joel Huber for future considerations.
In 20 games this season with Columbia Valley, the Grande Prairie, Alberta product had two assists.
Huber practiced with Nelson Wednesday night and is expected to be in the lineup for the weekend series against Castlegar.
Huber joins a defensive core that includes Austin Seaman, Robson Cramer and Darnel St. Pierre.
McLellan said a forward, most likely Nolan Percival, would drop back to help the defence.
More deals to come?
McLellan is working on a couple other deals but could not reveal the details.
Monday (December 1) is the BC Hockey deadline when all junior teams must reduce to not more than 25 players of registered or unused registration certificates.
Leaf injury list continues to grow
Defenceman Patrick Croome is the latest Leaf player to join the injured reserve list.
Croome played hurt in Saturday's 4-1 home loss to Beaver Valley.
Croome joins forwards Dylan Williamson, Timothy Nichols, Michael Crawford and Blair Andrews on the injury list.
Leaf coach Dave McLellan is in the process of assessing to see if any of the players would be out for the season.