Dooley, Kozak and Severyn tackle the issues at a uniquely styled mayoral candidate forum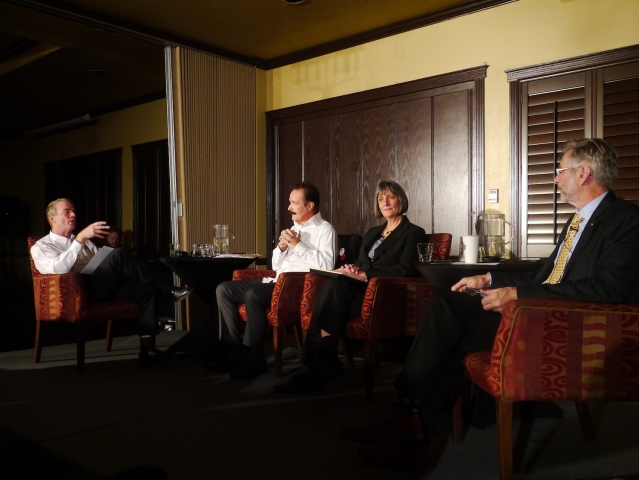 It wasn't set up like an all-candidates forum. There was no opportunity for the audience of about 200 to ask questions. The candidates and moderator Glenn Hicks were seated in comfortable armchairs on a slightly raised stage that was softly lit like a theatre performance. The lights in the audience were dimmed.
Hicks, who has worked as the news director at Juice FM for a decade, firmly controlled the agenda and ran it as a conversation between him and the candidates.  His tough but humourous questions challenged the candidates and entertained the audience.
"Pat, let me tell you what I'm hearing," Hicks said to mayoral candidate Pat Severyn. "You've got no track record. Maybe you should have run for council first. That is what I am hearing out there. You must be hugely confident that you can go straight for mayor and win."
"It has been done before," Severyn, a retired policeman, responded. "I am not new to Nelson. I walked the beat, I talked to every person, from panhandlers and beggars to pensioners, about their issues."
Hicks then grilled Severyn on why some of his ex-colleagues at the Nelson police were endorsing Mayor Dooley, why he is never seen at arts events, and why he has attended almost no council meetings over the years.
After receiving Severyn's answers with an affable scepticism, Hicks turned to Mayor John Dooley.
"John, this is what I am hearing about you," Hicks said. "You have become detached from the team, become politically aloof. Your success as a mayor, and your involvement with organizations such as the Federation of Canadian Municipalities, takes you here there and everywhere, and you have become detached from your political roots here."
Dooley's response carried a somewhat defensive tone that he maintained throughout the evening. "Since I became mayor we have brought in almost 30 million in senior level government funding into Nelson, to student housing at Selkirk, the emergency ward at KLH, Anderson Street place, federal and provincial funding. We have brought in millions for infrastructure. And for Hall Street and bulk of that work will be done by the provincial government's Small Community Grant."
Hicks then said he is hearing that Dooley sometimes uses his position as a pulpit and drowns other voices out, and asked if that might be the reason for the departure of some of the council members not seeking re-election.
"Would you admit that sometimes you are not egalitarian enough in certain situations?" Hicks asked. "Will you concede that?"
Dooley, who often talked over Hicks during the evening, did not concede.
"There are issues I am passionate about," said Dooley.  "However, I defy you to find more than a half dozen of those in my nine years as mayor."
"Deb, this is what I hear about you," said Hicks to Kozak.  "You are so eager not to antagonize anyone, or any group, that you find decision-making difficult."
"That is an issue of leadership style," Kozak said, "and I would say I am a centrist. I like to listen to all points of view before I make a decision. I research issues, and I like to listen to my colleagues and then I will speak."
Hicks suggested that Kozak's slow decision to run for council might be an example of her difficulty in making decisions. In response, Kozak said (for the first time in public) that throughout the summer she had been weighing running for mayor against requests from both the Liberals and the NDP that she run federally.
Hicks proposed to Kozak that if Dooley is too passionate, or not egalitarian enough, perhaps she has too little of those qualities.
"I want more testosterone from you," he said. "There are people in the room who might want to see that. Is that a deficiency?"
"I don't think so at all," said Kozak. "I think it is a strength. Too much estrogen or progesterone or testosterone is not a good thing. You can have passion and still have balance."
Using the same frank, conversational tone, Hicks then raised specific municipal issues and pressed the candidates to go beyond political banalities,  
The police budget
Hicks asked the candidates if they support the Nelson City Police request for $310,000 for two more officers and an administrative staff person.
Severyn said the need is there, but the costs could be applied slowly over time. He said the important thing is to have a "friendly ambassador on Baker in a policeman's uniform."
Kozak said she would like to see more analysis of the types of calls the police are getting. She said she would question the Nelson police's policy of "no call too small" which encourages police to respond non-criminal, non-emergency matters.
"We don't need more analysis," said Dooley, who as mayor is automatically the chair of the Police Board.   "We have the analysis, the chief and the board delivered the analysis to us."
Dooley and Kozak both said the police budget request cannot be granted without financial help from the province, and Dooley then gave a passionate speech about how the province has downloaded mental health issues to the municipalities.
Union contracts and management salaries
Hicks asked whether each candidate would cut the budget by shrinking the city work force by attrition when people retire, thereby keeping tax increases lower. Five unions represent City workers, the largest being the Canadian Union of Public Employees.
Kozak said the City of Nelson provides more services for a community of our size than any other, but that she could ask citizens if there are some of those services they don't need. She said that the city has ambitious plans in place for sewer and water system upgrades and that they need the staff to do that, and that the city has been able to save money by not contracting that work out.
Severyn (whom CUPE has recently officially endorsed as mayor) said the problem is not with the unionized workers but that there are too many administrators at city hall. He did not give specific examples of any services or positions there are not needed.
Dooley said the city's contracts with unions are negotiated, fair agreements, and that the city values its employees. He said cutting back administration would compromise worker safety and increase the cost of maintaining sewer, water, and other infrastructure.
Hall Street Corridor
Kozak said the project is a result of planning in which the public was involved. Pressed by Hicks on why it has been delayed, she said the bids for the first phase of the project near IODE Park came in high, so the city is going to re-tender it. She said she especially hears good things from the public about the plans for the plaza by IODE. In response to Hicks' suggestion that disagreement by one or two businesses could delay or stop the project, Kozak said the whole project will continue. She said part of it is a sewer and water project— that aging infrastructure under Hall Street needs replacing.
Dooley said Kozak gave a good explanation and that "we will be digging up Hall Street even if we don't plant one flower." He said the water and sewer aspects are already budgeted for and that the beautification part will be paid for by grants from senior levels of government.
Severyn said he was concerned that new traffic flow would direct traffic away from the east end of Baker Street. He said he thinks traffic flow should not be changed until Nelson Commons is built.
Dog bylaw
"The dog bylaw issue is not life and death, but it is a stickler," Hicks said. "The original bylaw has become mythological, to stop hippies with nine dogs on a long piece of rope. Have we misjudged the situation? We keep hearing that the downtown businesses want the bylaw looked at. Do we know that for sure?"
Kozak said she wants to lift the ban for a trial period.
"These simple issues, like dogs and garbage, they come down to the personal. If you are dog lover that will affect your decision. If we cannot discuss these small issues, how are we going to discuss bigger development issues like the waterfront?
Dooley said council did not second Kozak's motion last year to open up the subject because council had already made a priority list of issues, and the animal bylaw was not on the list.
"That's democracy," he said.
Kozak responded that priorities have to flexible enough to accommodate public concerns.
Severyn reminded Hicks that at the all-candidates meeting at Central School all candidates for mayor and council declared themselves willing to revisit the bylaw.
Other issues
The group also talked about social advocacy, taxes, housing, the transfer station site, and marijuana legislation.
The finale
In his concluding statement, Dooley said Nelson is "on the crest of a wave."
"This is not the time to blink. With at least four new councillors coming to the table you need proven, experienced leadership" that will approach issues in a "planned, methodical way."
He said his connections across the country will help the city get access to new infrastructure money from the federal government in 2015.
Kozak suggested that the city has been resting on its laurels, and it is time for "an evolution, a greater conversation."
She pointed to her regional connections through her work with the Columbia Basin Treaty negotiations and the Association of Kootenay Boundary Municipalities.
Severyn said there are only three pre-requisites for the job of mayor:  "Intelligence so you can learn the job, common sense to make decisions, and the ability to build relationships." He called for "new ideas and new vitality." 
Click on the images below to enlarge them.
Bill Metcalfe is a freelance journalist who covers Nelson City Hall for The Nelson Daily. To receive a regular twice-monthly email with links to his most recent city hall stories, send a request notification to billmet4@gmail.com.