Decline in Kootenay Lake fish population forces Family Day Derby cancellation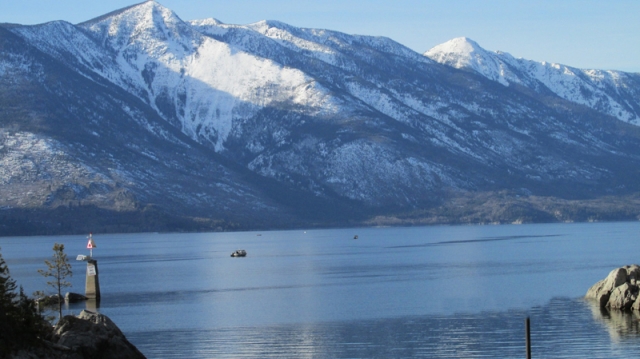 Organizers of the popular BC Family Day Fishing Derby that happens during the February holiday weekend on Kootenay Lake are voicing concerns about a decline in fish stocks in the main lake.
Robert Di Pietro of the 2015 Kootenay Lake Family Day Fishing Derby said the event has now been cancelled due to "an extreme decline in fish stock."
The 2015 BC Family Day holiday is Monday, February 9.
"After much discussion we, as concerned anglers, have had to make the very difficult decision to postpone the Kootenay Lake BC Family Day Fishing Derby 2015 until at least 2016," Di Pietro said in an email interview with The Nelson Daily.
Di Pietro said a reason for the decline might be due to the recent discovery of the IHNv (infectious hematopoietic necrosis virus) discovered in the Meadow Creek spawning channel in the fall of 2013.
However, fisheries biologist Matt Neufeld with the Ministry of Forest Lands and Resource Operations (FLNRO) said the possible reason for the decline is due to a "predator imbalance" not seen in Kootenay Lake for years.
"We monitor kokanee escapement that come back to spawn every year in Kootenay Lake (and) we count the number of Gerrard rainbow that spawn every year out at Trout Lake," Neufeld told The Nelson Daily.
"We have some index of how many bull trout are in the lake so as far as fish numbers," he added.
"Certainly anglers are reporting low catch rates for those largest Gerrard rainbows. What we're seeing at Gerrard (spawning channels) was a peak about four years ago . . . really high peak, about three times higher than we've ever seen there going back to the 1950s and 60s."
Neufeld said the Gerrard count reached its peak and has now started to decline, from about 1100 spawners to 700 in 2013.
"We're expecting to follow that decline line," Neufeld said.
"We certainly are seeing a decline in the index streams we count. But the numbers come up and down and we didn't see the same peak in Gerrard numbers we saw about four years ago."
Neufeld said fisheries staff continues to monitor the IHN virus while at the same time trying to optimize the fry getting into the lake through a fertilization program, monitoring rainbow and bull trout numbers and managing the spawning channel at Meadow Creek.
"We're managing for IHN at the facility and finding it again this year, although we don't think the decline in Kokanee numbers result from IHN but we want to make sure it's not a factor," Neufeld said.
And what is the current status of the IHN virus?
"Adult Kokanee returning to spawn last fall and this fall were tested positive for IHN . . . but fewer fish returning at the channels had IHN than last year, however, it was still present in lot of the fish we tested," Neufeld explained.
Neufeld said the Kokanee that spawned didn't die prematurely.
So this spring fisheries staff tested Kokanee fry leaving the spawning channel and those fry were all negative to IHN.
"The ones were leaving to go to the lake did not have IHN," he said.
Di Pietro said the anglers he's spoken with are seasoned fishermen, on the lake year round.
"We have seen the steady decline of fish and fish loaded with worms over the last three or four years to a point when some of us have given up fishing the lake completely," he said.
Neufeld said fishermen need to be patient to the point of riding this downturn out.
"We're going to do our best to optimize Kokanee production and decrease mortality," he said.
"But it's part of a natural cycle and TO some degree we're stuck riding that cycle out."
"How long that's going to go?. .. We're looking at modeling that anglers can expect a few years of low Kokanee abundance."