B.C. immortalizes national hero Terry Fox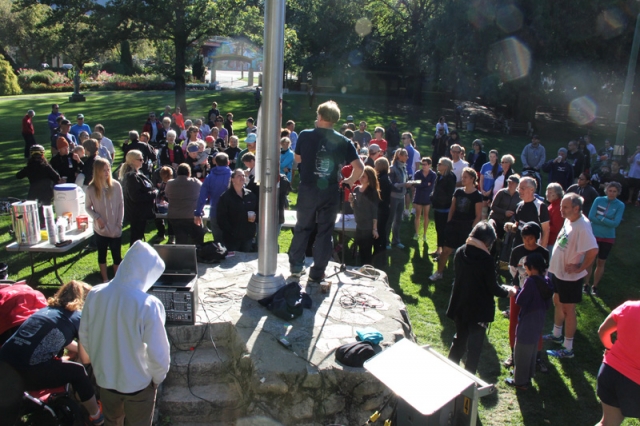 He's one of Canada's most iconic and inspirational  citizens- a symbol of hope, courage and determination in the fight  against cancer, and yesterday, the B.C. government legislated a day in his name.
With the passing of the Terry Fox Day Act in the B.C. legislature, the second Sunday after Labour Day will now be officially known as Terry Fox Day. This is also the date of the hundreds of annual cross-Canada Terry Fox Runs commemorating Fox's Marathon of Hope.
"Terry Fox is an inspiration for British Columbians, Canadians, and people all over the world," said Premier Christy Clark. "His message of hope and the movement he started continue to impact countless lives. This legislation that MLA Linda Reimer championed shows B.C.recognizes the difference he made in the world, and we will commemorate him every second Sunday after Labour Day from now on."
Beginning in April 1980, Fox ran for 143 days and 5,373 kilometres from St. John's, Newfoundland to Thunder Bay, Ontario, to raise money for cancer research. On Sept. 1, 1980, Fox's worsening condition forced him to end his one-man marathon and that was the beginning of something bigger than he had ever imagined.
This legislation recognizes Fox as a symbol of hope for British Columbians, and gives both the government and British Columbians the opportunity to carry on his vision and celebrate his living legacy.
"Terry Fox is an incredible inspiration for those of us here in the Tri-Cities area and for people across Canada and around the world. Following his diagnosis, he chose to devote his life to finding a cure for cancer through his Marathon of Hope, and while he couldn't finish it himself, people in countries all over the world continue to participate in the run that he started," said Port Moody-Coquitlam MLA Linda Reimer.
"I am honoured and privileged to have played a part in enacting the Terry Fox Day Act, which will forever recognize the significant impact that Terry Fox has made in our province and throughout the world."
"Our sincere thanks to MLA Linda Reimer for taking the lead and introducing the Terry Fox Day act to the legislature," said Rolly Fox, father of Terry Fox.
"We have been moved by the kind, generous and sincere words expressed by all members of the house since the bill was introduced. We are truly thankful, as the Terry Fox Day act acknowledges the magnificent efforts of 'Terry Foxers' from Ucluelet to Fort Nelson and every B.C. community in between, who further Terry's dream of eradicating cancer once and for all."
When Fox began his Marathon of Hope in 1980, his goal was to raise $1  from every Canadian to fight cancer. Today, more than $650 million  has been raised in Fox's name in Canada and around the world for cancer research.
Fox was born in born in Winnipeg, Manitoba, and raised in Port  Coquitlam, B.C. He died on June 28, 1981, at the age of 22.
"I'm not a dreamer, and I'm not saying this will initiate any kind of definitive answer or cure tocancer, but I believe in miracles. I have to."  —  Terry Fox
Quick Facts:
Every year, millions of people in close to 30 countries participate in the Terry Fox Run, National School Run Day, Terry's CAUSE on Campus and Terry Fox fundraising events.
There are 14 schools and 15 roads in Canada named after Terry Fox.
There are nine Terry Fox memorial locations with statues across the country including the Terry Fox Memorial that was unveiled at BC Place in September 2011, which was created by renowned B.C. artist, Douglas Coupland.
The Terry Fox Foundation, and its research arm the Terry Fox Research Institute, invest over $23 million annually in cancer research in Canada.