Vandals rain on Pat Severyn Campaign, go on sign-stealing spree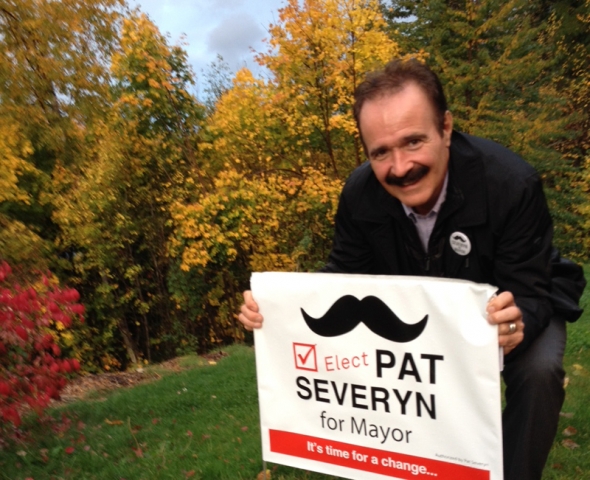 "Fear the Stache".
That slogan may not worry incumbent John Dooley or challenger Deb Kozak during this run up to the municipal election in Nelson, but some one is out to stall Pat Severyn Campaign Bus after more than 110 signs were stolen over the past couple of days from street corners, yards and cul-de-sac in the Heritage City.
"When I started this campaign I expected about a 10 percent loss of signs," Severyn, adopting a "mustache branding" on his election signs, told The Nelson Daily Thursday.
"But systematically someone, from 3:30 p.m. (Wednesday) to 8 a.m. today, took our signs from places that people can't even see unless they live in that neighbourhood."
"Today, we found some of them disposed in garbage cans at Lakeside Park and Lion's (Park)," Severyn added.
Nelson Police Department Sargent Dino Falcone said in a media release last week, several dozen of the election signs have been stolen, while others have been damaged or marred with graffiti.
"Vandalizing political signs is no laughing matter and in fact is a crime that could lead to a criminal record," Falcone said.
Election vandalism is not just reserved for the Heritage City.
Across the province, in Okanagan and Fraser Valley, vandals have targeted civic candidate's signs, with Surrey mayoral candidate Barinder Rasode and Summerland councilor hopeful Toni Boot experiencing the worst of the damage — claims by Boot being investigated by the RCMP as hate-motivated crime.
Despite the setback, Severyn is not swayed by the actions of a few hooligans.
"Other than losing signs, the campaign has been so positive," he said. "I'm just thrilled at the people coming up to me and asking about issues that are affecting Nelson."
Falcone said police are are following up on a tip from a resident who had witnessed some signs being stolen and called in a good vehicle description.
"Those caught vandalizing or removing election signs can face stiff fines and, or jail time," Falcone said.
"A person could be charged with mischief which carries a fine of up to $5,000 or two years in prison."
Of course, Severyn, current Mayor Dooley or councilor Kozak could join forces with the rest of those vying for municipal government in Nelson and follow the lead of candidates in Whistler.
In the resort municipality all 11 candidates have agreed not to put up any signs during the election run up to the November 15th voting day, some due to the environmental aspect while others say they are just a costly hassle.
Severyn can relate to the costs.
His campaign lost approximately $1,200 in signs during the past couple of days and his committee now is forced to pony up more cash to get some of those replaced to keep pace with the other candidates.
Voting day is November 15, 2015.