Stores To Shores project starts next week with Cedar/Front Street overhaul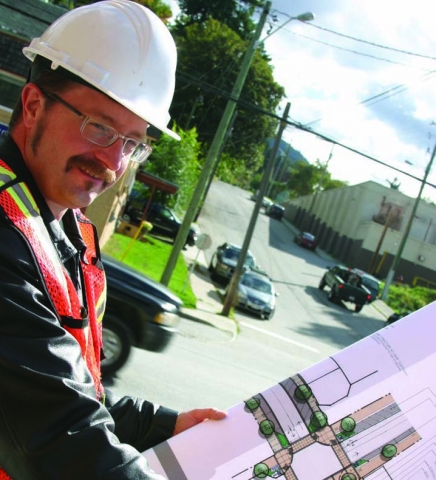 Drivers heading into the downtown core of Nelson will notice a few changes to the traffic flow happening in the next few weeks as part of the Sustainable Waterfront and Downtown Master Plan (SWDMP).
This program is part of the most comprehensive upgrade and beautification program Nelson has seen since the famous 1980s revitalization of Baker Street — Stores To Shores Downtown Revitalization Program.
Starting soon, in anticipation of next year's Cedar and Hall Street re-alignments, crews will be preparing the intersection of Cedar and Front Street for the addition of opposing left-turn bays.
Next spring, construction kicks into high gear with Cedar Street resigned along with an overhaul of the five-way Cedar/Vernon/High Street intersection.
 
"We're going to get to work now before winter arrives to create space to add the turning bays next spring," says Public Works and Utilities Director Colin Innes.
"There'll be paving, curb and sidewalk work done now, so that when spring comes we'll be able to add new signage to Cedar Street and make the traffic improvements very quickly."
 
These changes are part of the already completed Nelson Hydro's Downtown Conversion, the upgrade of sewer and water lines throughout many residential neighbourhoods, the completion of the city's new high speed fibre optic broadband network, the addition of new shopper-friendly four hour parking zones downtown, upgrades to the promising Railtown District and a second round of public art installations throughout the downtown core.
The project is aimed at establishing stronger, safer pedestrian and traffic connections between historic Baker Street and the city's beautiful lakefront, the project will see the re-alignment of traffic flow on a number of downtown streets and a comprehensive beautification project stretching along the only thoroughfare that connects the waterfront to the City's bustling downtown hub — Hall Street.
 
The first phase of the Hall Street stage had been slated for the 500 block, between Baker and Herridge Lane, this past month.
But in an effort to ensure the project stays on budget, and that construction did not impede Nelson's vital summer tourism season, the first phase has been postponed until next spring and expanded to include the 400 block (Baker to Vernon Street) and 300 block (Vernon to Lake Street).
"All of those new stages are currently under design, and scheduled to begin in the spring of 2015," says Mayor John Dooley.
"We decided to postpone the first phase due to a tight construction schedule, which would have put the project over budget."
While the plans are now in place, Council values your feedback on the proposed improvements. 
Please visit the City of Nelson website to see the initial concept drawings.