Leafs back home to face Rockets Saturday after opening against Bruins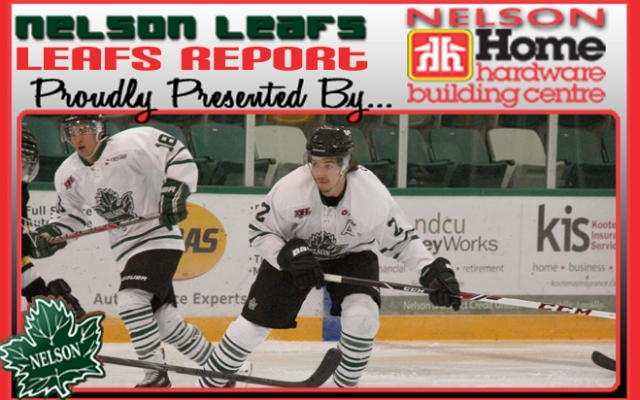 Murdoch leading Nelson Leafs return to the ice Friday in Grand Forks against division-rival Border Bruins as the Kootenay International Junior Hockey League resumes play.
According to Leaf coach Dave McLellan, the Leafs had better be prepared to face a Bruins team desperate to get back into the divisional race after losing four of the past six games.
"Grand Forks is a team that is going through a tough time after starting pretty well," McLellan said when asked about the weekend set, which concludes Saturday at home against Golden Rockets.
"They're a team that has got to start winning or you're going to see them start to make some changes so we better be ready to play them."
Grand Forks opened the season winning two of three games before going on a slide, dropping six straight games.
The Bruins are led by Max Newton, tied for third in KIJHL scoring with 10 goals and 13 assists.
The roster also includes Nelson Minor Hockey product Coleton Dawson.
Saturday Nelson returns home from a five-game road trip to play Golden.
The Rockets, 8-6-0-1, currently sit third in Eddie Mountain standings, two points behind division leading Kimberley Dynamiters.
Gritty win in Sicamous
Leaf coach Dave McLellan needed all hands on deck to secure Sunday's win in Sicamous after the flu took over the dressing room.
A list of casualties included starting goalie Brett Soles, who had to leave the game after the second period.
Soles was replaced by back up Adam Maida, who had a bounce-back game after being hung out to dry by his teammates two nights earlier in 100 Mile House.
"It was good to see Adam play well for us against Sicamous," said McLellan, adding a few players also needed to have a bucket on the bench in case of an emergency.
"We put him in a pretty tough position in 100 Mile House. But he came in for Soles and played great for us."
Prince Albert prospect Williamson a great addition
Leaf coach Dave McLellan was impressed with the play of rookie Dylan Williamson.
The 16-year-old the 6-foot, 160-pound forward, who had to wait until paper work was completed before being allowed to play for Nelson after coming to the Leafs from Prince Albert of the Western Hockey League, is a tough to handle for opposing forwards.
"Dylan has good vision and his bigger body is a load for the opposition to handle," McLellan said.
Williamson had four points in three games for the Leafs.
Leafs still searching to improve team but trade will not include defencemen
Nelson skipper McLellan said the Leafs are still in the market to improve the team.
However, any moves won't include the Leafs strong defensive core.
"Things are heating up," he said. "Teams are still trying to solidify small pieces of their rosters and we're actively searching for ways to help our team."
McLellan said almost every day he gets a call inquiring about his solid defensive core, that has Nelson near the top in goals allowed in the league.