Bombers ready for playoffs with solid showing in Castlegar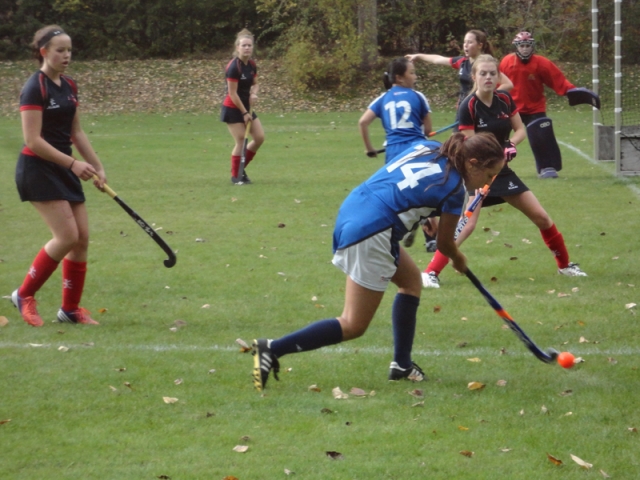 The L.V. Rogers Bombers tuned up for the playoffs by going 3-0-1 during the West Kootenay Girl's Fieldhockey Tournament Saturday at Pass Creek Park in Castlegar.
LVR defeated Stanley Humphries Rockers of Castlegar (4-0), South Okanagan of Oliver (2-0) and West Kelowna's Mount Boucherie (1-0) before playing rival J. Lloyd Crowe Hawks to a 1-1 tie.
"The team is maturing this year and is now able to relax in pressure situations and make good decisions and self-less passes to ensure the best result for the whole team," said Bomber coach Val Gibson.
LVR opened the tournament Friday with wins over Stanley Humphries and South Okanagan.
Jena Wheeldon scored twice with Allie Zondervan and Lauren Walgren adding singles in the opener.
Against South Okanagan, Grade 9 players Hanna Quinn and Julia Burkart scored LVR.
Saturday the Bombers edged Mount Boucherie on a goal by Abbie Bouchier-Willans.
Jena Wheeldon was in goal for the Bombers.
The Bomber concluded play with a nail-biter against the Hawks.
The team was missing four key players.
But Gibson was impressed at how the others players stepped up to fill in.
"Hailee Gerun was the player of the game, playing with heart, skill and poise after spending the morning fitness testing with the White Caps High Performance Soccer Program in Nelson," Gibson said.
Quinn scored the lone goal for LVR from Sydney Ednie and Tara Yowek.
LVR now awaits the winner of Tuesday's semi final between Stanley Humphries and J. Lloyd Crowe in the West Kootenay Championship game Thursday at Pass Creek.
A win advances LVR into the BC High School Girl's Fieldhockey tournament November 6-8 in Oliver.
A loss and LVR must play a wild card game to advance to the provincial tournament October 28 in Kelowna against Fraser Valley #2.