Bombers avenge defeat by stopping Wild at High School Soccer tourney in Nelson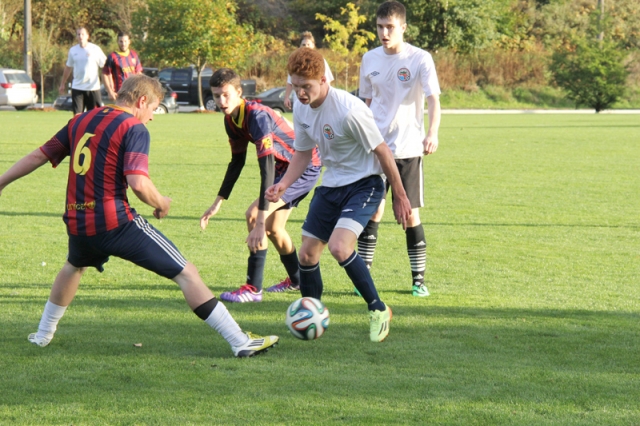 Tournament star Ryan Lewis scored to spark the L.V Rogers Bombers to a 4-0 victory over rival Mount Baker Wild in the final of a High School Boy's Soccer Tournament Friday at the Lakeside Pitch in Nelson.
The win avenged the only loss of the season for LVR as the Wild edged the Bombers 2-1 in the final of the Baker Tournament a week ago.
Andrew Tranfo and Spencer Atkins also scored for the Bombers.
"Nick Wethel and Dylan Bennett were solid defensively allowing very few shots to get through to goal," said Bomber coach Simon Liddell.
"Nigel Ziegler was a formidable force in the midfield throughout the tournament playing strong defense and setting up numerous goal scoring opportunities.
"Ryan Lewis was the outstanding player of the tournament as voted by the coaches of the four teams," Liddell added.
LVR opened the tournament bouncing Prince Charles Comets of Creston 3-1 before edging a tough J. Lloyd Crowe Hawks squad 2-0 on goals by Lewis.
"Trail had a very big team made up mostly of Grade 12's," Liddell explained. "The game was very close until midway through the second half when Ryan Lewis scored two goals in quick succession to put LVR ahead."
Liddell said this year's team is made up of an equal mix of Grade 10, 11 and 12 students with a couple of Grade 9's filling out the roster.
There are also two German exchange students on the team.
The Bombers have been practicing together for two months and has now played all the teams from the East and West Kootenay regions.
Friday's tournament is the final tune-up for the Kootenay AA Boy's Soccer Championships, set for this weekend in Creston.
The winner represents the zone at the BC High School AA Boy's Soccer Championships November 17-19 in Burnaby.