Bombers sweep past teams at Mt Sentinel hoops playday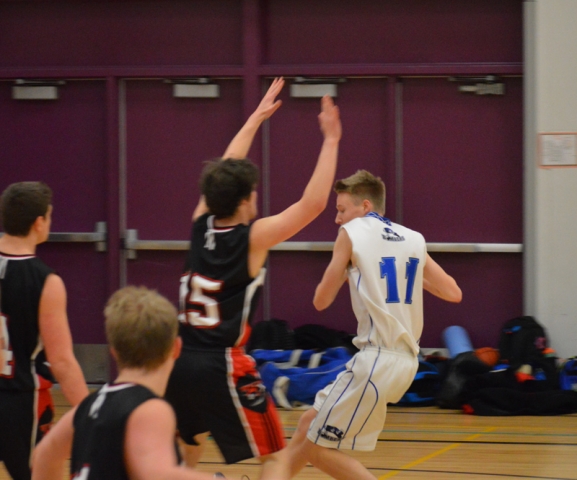 The L.V. Rogers Bombers put together two solid games en route to a sweep of the opposition at the Mount Sentinel High School Boy's Basketball Playday Saturday at the South Slocan gymnasium.
The Bombers knocked off host Wildcats 61-41 before disposing of Prince Charles Comets of Creston 77-48 in the second game of the Playday.
"It took a while for us to pick up our man to man defense but eventually we got organized and pulled away with the lead," said Bomber coach Jeremy Phelan after the opening contest of the day.
"Our bench players were able to get some quality minutes which they hadn't been seeing as much of in many of the recent tight games against tougher competition."
The Bombers held a19-8 advantage after the first quarter of play before pulling away in the second half for the 20-point victory.
Scoring was spread evenly up and down the roster with Ethan Perkins leading the way with 17 points and Bjorn Morris adding 10.
Tobin Eberle had eight, Sida Wang nine, Hanno Southam seven, Dylan Bennett three and Isaiah Kingdon and Leo Zhou each with two.
Johnny Johnson, Aslan Mackay, and Spencer Legebokoff led the wildcats with 12, nine and seven points, respectively.
Against the Comets, LVR was reduced to seven players after Ethan Perkins and Dylan Bennett left to attend soccer practice.
However, Prince Charles was missing its starting point guard.
PCSS employed a scrappy zone defense and full court trapping press, which caused many turnovers and a close score after of 16-8 for LVR after the first quarter, and 28-25 at the half.
However, LVR finally started to break the press and exploit the weaknesses in the zone and established a 16-point lead going into the final frame with the score at 56-40.
With a short bench PCSS grew tired and LVR managed to pull away with the victory of 77-48.  
"We were bigger than them inside and were successful in converting high percentage shots from close range which was indicative in Tobin and Bjorn's lines of 13 and 18 points, respectively," Phelan explained.
Phelan said Kingdon and Want were strong at the guard position scoring 16 points each.
Leo Zhou chipped in 10 points and Hanno Southam with two points.
The Bombers are off to Fernie to compete in the Falcons tournament Friday and Saturday.
Phelan expects to see an improved Mt Baker of Cranbrook and a full-staffed Comets team.
The Bombers open against Selkirk Storm of Kimberley.
The tourney is the final preparation for the upcoming This is our last Kootenay High School Boy's AAA zone playdown against J. Lloyd Crowe Hawks of Trail February 19 at the Hangar.
The winner represents the zone at the AAA Provincials in Langley, March 12-15.