Nelson skaters look to sharpen routines in Rossland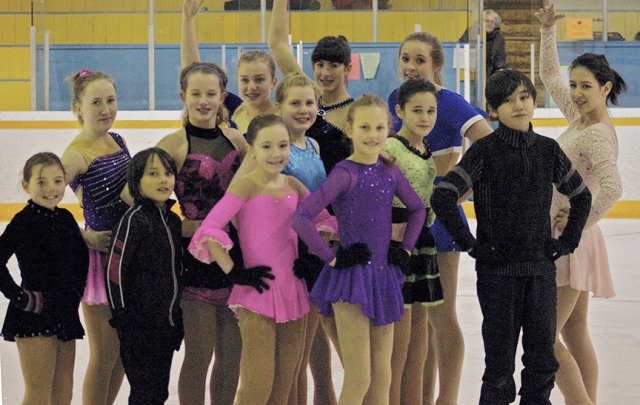 A slate 14 of competitors the Nelson Figure Skating Club will test their mettle this weekend at the West Kootenay Invitational in Rossland.
The meet marks the second major competition in the Kootenay Region giving skaters another opportunity to have their performances rated by a team of judges. In addition many skaters will be attempting to pass Dance and Elements Test.
"Our senior skaters are looking to improve on their scores from the East Kootenay Invitational in Kimberley this past November," said coach Sarah Gower.
"They're building towards hitting their peaks for the STARSkate Super Senior Series Final in Kelowna this March where provincial champions at all levels will be crowned."
For those skaters competing at STAR 4 and over their marks will also count towards qualifying for the Provincial Development Camp later this year.
"The is the busiest time of the season," adds coach Yoshie Measures.  "We have kids working on freeskate and interpretive programs as well as taking tests. For our younger skaters Rossland will be their first taste of what a competition is like."
Free Skate Events:
STAR 1 – Aurora Panko-Dool, Lulu Nyiti, Courtney Donaldson
STAR 2-Tia Berens, Leo Measures, Lila McKechnie, Helena Keating, Hannah Corven
STAR 3 – Isabella Kroker-Kimber
STAR 4 13&O – Courtney Shrieves, Morgan Sabo
STAR 5 U13 – Charly DeFouw
STAR 5 13&O – Breanna Tomilin
Interpretive Events:
Pre-Introductory Interpretive – Charly DeFouw
Introductory Interpretive – Morgan Sabo
Bronze Interpretive – Breanna Tomilin
Dance Solo Events:
Jr. Bronze Dance Solo – Lila McKechnie
Sr. Bronze Dance Solo – Courtney Shrieves
Sr. Silver Dance Solo – Christina Champlin, Breanna Tomilin
Elements Events:
Elements 1 – Helena Keating, Isabella Kroker-Kimber, Morgan Sabo
Elements 2 – Charly DeFouw, Breanna Tomilin
For more info and photos visit nelsonfigureskatingclub.ca