Kootenay Co-op Members Loans program tops $1 Million mark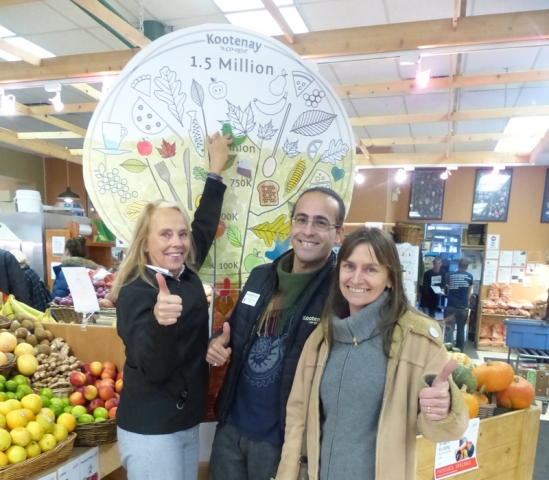 The news just keeps getting better for the Kootenay Co-op Board of Directors.
Nineteen days into the fundraising campaign to outfit the new store on Vernon Street, the Co‐op's member loan push reached the $1 Million mark.
"We couldn't be more heartened by the response from our members," Board Director and
Member Loans Committee Chair Susan Morrison said in a media release.
"This campaign has been about so much more than the money . . . hitting the $1 Million mark is also about the excitement, trust and goodwill that's behind every dollar loaned."
The Kootenay Co-op launched its Member Loans Program on October 1 with a goal of raising $1.5 million to equip the new store, which they expect will open in early summer of 2015.
The Member Loans program asks the public to consider making a loan as a way of supporting the Co-op's growth.
The Member Loans program funds will be used for new shelving, lights, and refrigeration units, check out tills, office computers and other fixtures —that will turn the unfinished 20,000 square foot space building into our new Co-op store.
"Our Member Loans team keeps telling me how meaningful they are finding the experience of closing these loans," Morrison explains.
"Members are sharing their favourite stories about the Co‐op; some going all the way back to its roots as a buying club in South Slocan. They are all proud of the Co‐op they own . . . and how it's contributed to a healthy community and local economy."
While time is running out on the program — deadline is October 31 — the enthusiasm appears to be growing and reaching the goal of $1.5 Million seems attainable.
"This campaign affirms that we have a truly amazing community of members who are genuinely enthusiastic about loaning their money to the Co‐op," said Morrison.
"I believe we can get to $1.5M. And, to the best of our knowledge, this will set a record for funds raised by a Canadian food co‐op."
All members of the Kootenay Co‐op are eligible to make a loan to the Co‐op, and other community members excited about the opportunity to invest locally can join the Co‐op and be a part of this program immediately.
For more information, call the Member Loans Desk at (250) 354‐4077, ext. 555, pick up a pamphlet at the Co‐op's Customer Service desk or visit
http://www.kootenay.coop/publications/memberloanspamphletfinalweb.pdf