Changes in the works for traffic flow in key Nelson intersections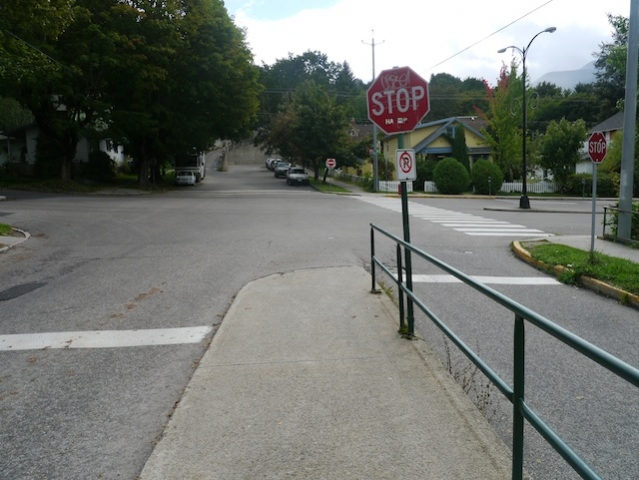 Later this week a consultant from Kelowna will spent four days counting traffic at four key Nelson intersections and then recommending changes in traffic flow in the east end of the downtown.
The impetus for this comes from the recent consultant recommendations from the MMM Group Ltd. for changes to Hall Street.
One option put forward by MMM was that the 300 block Hall St. (the steep block just below Vernon) be made one-way going downhill, for safety reasons. (That suggestion included moving the entrance to the community complex downhill to form a four-way intersection at Lake Street.)
City planner Dave Wahn says changes like that can affect traffic patterns on other streets.
"It could affect the public's access to the downtown," he says, pointing out that having Hall Street one-way downhill would mean drivers would have to enter downtown from Front Street either up Cedar Street or Ward Street.
The study will focus five specific issues and the relationships between them:
The Hall and Vernon intersection. This intersection presents safety problems because it is too difficult for drivers on Vernon to see if anyone is coming up the hill on Hall Street.
The Hall and Lakeside intersection. The three-way stop in a four-way intersection is confusing, and this is made worse by the proximity of the railway tracks.
The Vernon and Cedar intersection. Of the five approaches to this intersection, one of them is one-way, and one of them is one-lane but two-way.
Cedar and Baker traffic flow. Should the one-way block on the east end of Baker and the south block of Cedar be reversed, so drivers could drive all the way up Cedar onto Baker? This could compensate for a change to one-way downhill on Hall Street.
The north end of Cedar. Consideration will be given to the possibility that sometime in the future, Cedar Street maybe extended northward to Lakeside.
The consultant will monitor traffic flow and volumes at those intersections, analyse the results, run computer modelling to make projections 20 years into the future based on potential growth of the community, and create a report with recommendations for the city before the end of the year.
Related Story in The Nelson Daily:
City unveils plans for the transformation of Hall Street (June 27, 2013)
New corridors to the waterfront: development of Hall Street and Cottonwood Creek to come before council this fall (October 5, 2012)