Lucky and not-so-lucky night watching Festival of Lights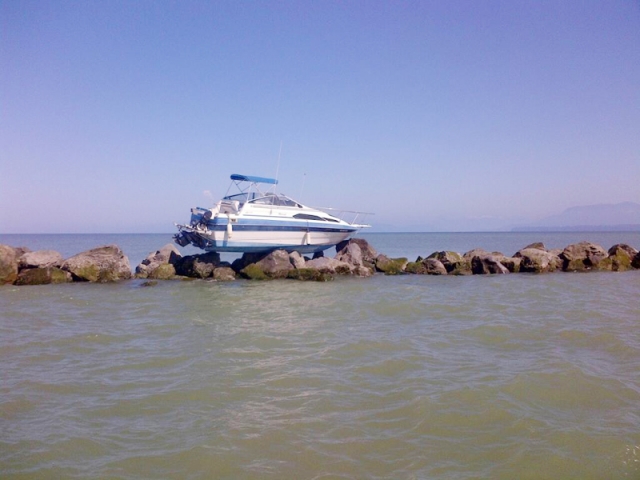 A family of six is lucky not to have suffered serious injury after their boat ended up on a rock jetty during Saturday's Festival of Lights Fireworks display in Vancouver.
Around 11 p.m. Richmond RCMP'S  Marine Unit vessel, The Fraser Guardian, was heading back to base after assisting with water patrols during the Saturday night fireworks display, when they spotted a flashlight out on the Steveston rock jetty.
Upon closer inspection the crew found a family of six stranded in a 25-foot vessel hung up on the rocks, five kilometers west of Garry Point Park in Richmond. 
The Fraser Guardian Crew called in The Richmond Royal Canadian Marine Search and Rescue to secure the boat. 
A Seaspan Vessel provided light to assist with the rescue of the four adults and two children on board the stranded vessel.  The family was transported safely to the RCMP dock in Steveston.  
Brian Hobbs (President, Strait of Georgia Marine Rescue Society) said in a letter to Richmond RCMP that " had those members not acted so quickly this could have been a tragic situation.  He has seen boats capsize or crash in similar circumstances. "
The incident is the second in the past few weeks involving boats ending up out of the water.
On July 9 RCMP in Penticton was called to the City Wharf after a boater parked his vessel on the dock.
 
Luckily, only one occupant on board received minor injuries, all the while several tourists on the wharf scrambled out of the way.
The accident happened around 10:30 p.m. at the Rotary Park pedestrian wharf at the South end of Okanagan Lake. 
RCMP investigators attended and detained the boat operator at the scene. 
Several witnesses were interviewed by police, after many of them had just been enjoying a stroll on the wharf with some scrambling from benches that were in the direct path of the 28 foot day cruiser style boat. 
At the time of the crash there were two occupants on board and was operated by a 45-year old Penticton man. 
His passenger, a 43-year-old Richmond woman was the only injured party receiving only a small cut to the side of her face.  None of the persons who were out enjoying their evening were injured.   
Officers had grounds to compel the boat operator to provide a breath sample at the scene, which led to his providing further breath samples at the police office.