KidSport Nelson receives big ticket donation from Telus Community Action Team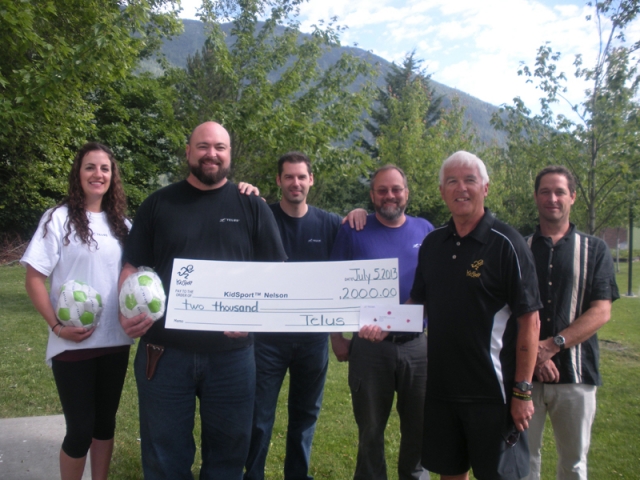 The Nelson KidSport chapter recently received a nice influx of cash when the Telus Community Action Team dropped off a cheque for $2,000 to local rep Bill McDonnell.
The donation was part of the Telus "Give Where We Live" program.
The program promotes investing in programs that provides a positive and lasting difference in communities where Telus employees live.
The goal is to help build healthy, sustainable communities, with a particular focus on empowering youth to reach their full potential and become leaders in philanthropy so that they can make a positive difference in their own lives and those of others.
The Telus team of Rachel Worley, Joe Lamb, Chris Ridge, Doug Weber, and Mike Garant presented McDonnell with the funds along with soccer balls to be handed out by KidSport Nelson.
The Nelson KidSport chapter has been running since 2007 and to date has allocated $83,000 to 580 local kids for sport registration fees and a further $2500 for equipment.
Most of that money was raised locally and stays local to support athletes in this community. The many financial supporters include large donors such as Provincial government, CBT, banks and service clubs but also local kids who give up their birthday gift money and loot bags to help families through KidSport.
At its April 25, 2013 meeting, KidSport Nelson approved an increase in its annual grants from $200 to $250 per athlete, beginning April 1, 2013. Athletes can apply more than once in a calendar year to the maximum grant amount (now $250). That means if they play soccer for a $110 cost the reminder can be put toward another sport within that same year. In addition, due to a required change in reporting to KidSport BC, KidSport Nelson will have two funding periods for 2013-14.
Thus, athletes from 6 to 18 years of age, with financial needs, will have access to: $250 from April 1, 2013 to December 31, 2013 and $250 from January 1, 2014 to December 31, 2014.
For more information on Nelson KidSport go to http://nelsonsports.ca/kidsport-nelson/