Noon Rally Supports Caravan Against Northern Gateway Pipeline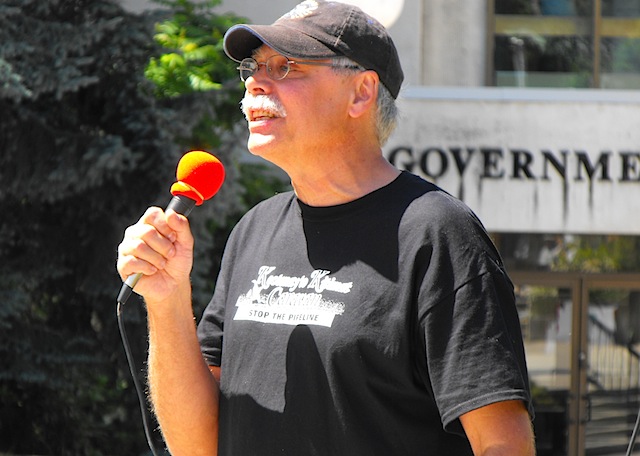 About 40 Nelson residents gathered outside Nelson City Hall at noon today to support the four-person Kootenays to Kitimat Caravan, which left immediately after the rally for stops in Castlegar, Grand Forks, and points north. The caravan is travelling in opposition to the proposed Northern Gateway Pipeline.
"We are here to say three simple things," Keith Wiley, one of the caravaners, said at the mic. "No pipeline. No tankers. No problem."
"The massive opposition to this project is a turning point for Canada and Canadians," Wiley said. He and the other caravaners, all men who are no longer young, were affectionately dubbed "The Geezer Brigade" at the rally.
The half-hour event moved along briskly, with a few short speeches and an upbeat but determined mood. Local politicians from federal, provincial, and municipal governments attended and spoke.
"Love beats greed"–Batycki
"The pipeline is a symbol," said Nelson City Councillor Candace Batycki.  "There are two futures in front of us. There is the future that leads to super-tankers in the Great Bear Rainforest. But we also have a choice to go toward a clean energy future– the kind of future we want for our grandkids."
It was Batycki's motion that prompted Nelson City Council to officially express its opposition to the pipeline at a recent council meeting.
"Enbridge may have enough energy to buy slick TV ads," Batycki told the rally, " but we have the power of the people and the love of the land and the love of the sea. And love beats greed every time."
The Union of B.C. Municipalities opposes the Northern Gateway pipeline. Of the nine individual municipalities on or near the route from Prince George west, three (Prince Rupert, Terrace, and Smithers) oppose the project and six are in favour. There is broad opposition among northern First Nations groups.
"We've got lawyers"–Mungall
Nelson-Creston MLA Michelle Mungall invoked the recent problems that caused Enbridge's oil spill in Kalamazoo, Michigan. "We not going to have that happen in BC," she said. "That is not an option and my colleagues and I in the NDP are absolutely clear on that."
"If that pipeline gets approved," she told the rally, "we've got lawyers. We will do whatever it takes. If it means standing at the Alberta border and saying 'you are not crossing,' that is what we are prepared to do. That pipeline is not coming to B.C."
"Devastating political process"–Atamanenko
MP Alex Atamanenko said, "It's a political decision. The government has decided to do this. Bill 38 that many of us have been opposing—many of us have gone so far as to call it a pipeline bill. That is how devastating this whole political process has been."
Caravan members plan to attend public events in Kelowna, Kamloops, Williams Lake, Prince George, Fort St. James, Smithers, Terrace and Kitimat. They hope to meet local mayors, politicians and First Nations leaders.
Click on the photos below to enlarge them.