One More Step Toward Regional Transit Sanity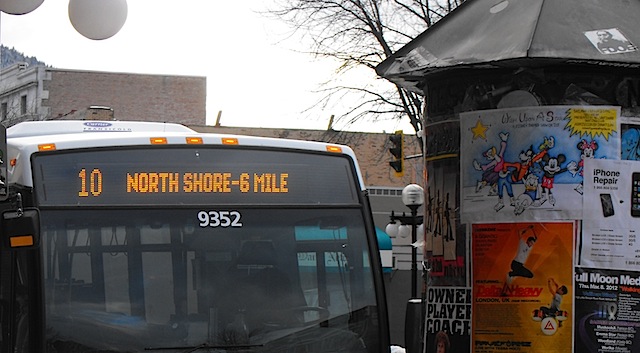 The road is now paved a little further toward a unified fare structure for public transit throughout the West Kootenay. 
In the near future, the newly formed West Kootenay Regional Transit Committee will present to Nelson City Council a plan for a structure that will have three fare zones rather than the current ten. 
B.C. Transit's Kevin Schubert is spearheading the plan, which sets out fare zone boundaries.  "We need to make this easier not only for the rider to understand but easy for the driver to communicate to the riders," he says.
B.C. Transit is the provincial government body that funds 47% of the cost of transit in B.C. It coordinates transit systems and provides transit expertise to local governments. 
The plan will also be taken to the other two governmental players in regional transit, the Regional District of Central Kootenay (RDCK) and the Regional District of Kootenay Boundary (RDKB) for their approval. 
Next step: a unified bus schedule
Fare zones are the easy first step, says Schubert. Next will come the question of a unified schedule for the region. "We felt the easy one was the fare structure. That was the one we could move on to get some progress." 
Schubert says new structures for fares and schedules will be in place by next April at the latest. For each stage, B.C. Transit will need to get agreement from the City Nelson and both regional districts.
New routes for Nelson
Part of the process for developing a unified schedule will include new routes within the city of Nelson.
For more detail and background on developments in transit within Nelson and in the region see previous stories in The Nelson Daily here and here.
Transit committee gets started
The new West Kootenay Regional Transit Committee will oversee transit at the policy and planning level. The group is still in the process of defining its terms of reference. The members of the committee are:
Mayor Karen Hamling (Nakusp)
Mayor Lawrence Chernoff (Castlegar)
Area E representative Ramona Faust (RDCK)
Councillor Kathy Wallace (Rossland)
Councillor Don Duclos (Montrose)
Councillor Donna Macdonald (Nelson)
Mayor Larry Gray (Fruitvale)