Nelson Council Plans to Scrap Heritage Commission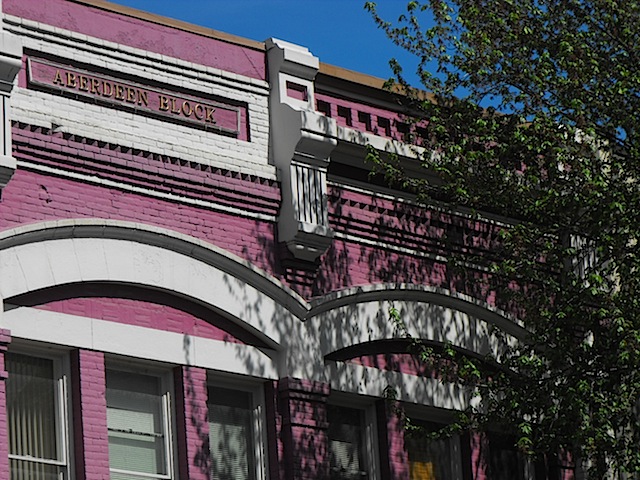 The City of Nelson decided on May 7 to dissolve its volunteer Heritage Commission. This change would see the commission's policy function given to the Cultural Development Commission (CDC), and city staff would take over the Heritage Commission's role in deciding on applications for colour and design changes from building owners.
Councillor Paula Kiss, who is spearheading these changes, says it is because the Heritage Commission is inefficient and redundant. The chair of the Heritage Commissions disagrees.
Making changes without permission
Kiss says many building owners see the process of applying to the Heritage Commission for changes as so onerous and drawn out that they often just go ahead and make changes to design or color without asking. "They were just altering things, they would change a door or change windows, and change the signs, on their own," says Kiss. "That does not help preserve our heritage culture."
Too busy sitting in meetings
Kiss says it makes sense to have one group deal with heritage, arts and culture because they are all inter-related in many of the city's new planning documents such as the Sustainability Strategy and the Waterfront and Downtown Master Plan.
And she says that between the Heritage Commission, the CDC, and the Advisory Planning Committee there are requirements that members sit on each other's committees, "so you have cross-pollinated all these groups. For example it is mandated that someone from the Advisory Planning Committee sit on the CHC, but for about six months nobody wanted to do it, everyone was tapped out. So you have these breakdowns between the groups. There are only a certain amount of heritage experts in Nelson and only a certain amount of volunteers who want to put in that time."
Kiss sat on both the Heritage Commission and on the Advisory Planning Committee before she was elected to city council.
She said city staff members also attend the meetings of all three groups, and the result is that "the process is so bogged down that everyone is too busy sitting in meetings instead of actually working with the building owners."
Heritage Commission chair: "We are efficient and effective"
Marilyn Miller, the chair of the Heritage Commission, disagrees with the decision. "I am extremely disheartened and discouraged by this.  I am a volunteer as are all members of the committee and the city has been getting volunteer service from us to uphold the heritage standards and values of the community. We are extremely efficient and effective. I don't understand how this will be more expeditious. 
"My fear is that a defence against heritage degradation will no longer be there," says Miller. "If staff can say no to heritage degradation that would be wonderful, but the staff has many jobs to do, and preserving heritage is just one of their parameters, and they are stretched really thin, whereas we are a dedicated group of community people who have expertise and commitment to heritage."
Councillor Robin Cherbo also has some reservations. At the council table on May 7 he warned against watering down heritage protection by not having a specific group dedicated only to heritage. 
Chamber of Commerce Executive Director Tom Thompson is cautiously optimistic about the proposed changes. He says he is in favour of anything that would eliminate duplication of services. "But at the same time we have to make sure we retain that heritage feel," he said. 
Arguing about awnings
Kiss cites a downtown building that applied last year to repaint its exterior.  "That should be pretty straightforward," she says. "They had to choose colours from the heritage palette and the palette is not rocket science. So they had to put in an application to paint, and that application had to come before the Heritage Commission, even though it is not a heritage building, just to consider streetscape and colours in the downtown core. 
"And there was a lot of discussion, and the Heritage Commission started weighing in on the awnings and how the awnings should look, but the truth is that it is not a heritage building, the owner just wanted to paint it before winter, and it ended up not getting painted because the meeting was delayed. It should have just gone before staff for a decision." 
Expertise is uneven
Kiss is not necessarily impressed by the level of expertise on the Heritage Committee. "It is not appropriate for a bunch of volunteers to be vetting designs, because you get some people in there that don't now much about heritage competing with people that do know a lot about it. So the design vetting piece should go to city staff who will get direction from policy."
Anti-bureaucracy?
Asked how the CDC will have the time and resources to take on the new task of Heritage policy, Kiss said she hopes the city could make more resources available to the CDC as a result of the streamlining she is recommending.  
"Right now my biggest concern is that the right resources get allocated to the CDC," she says. "This is like anti-bureaucracy to me."
Council asked city staff to work out the details of how the new configuration of responsibilities will work.