Nelson Transit Riders Weigh in on New Bus Proposals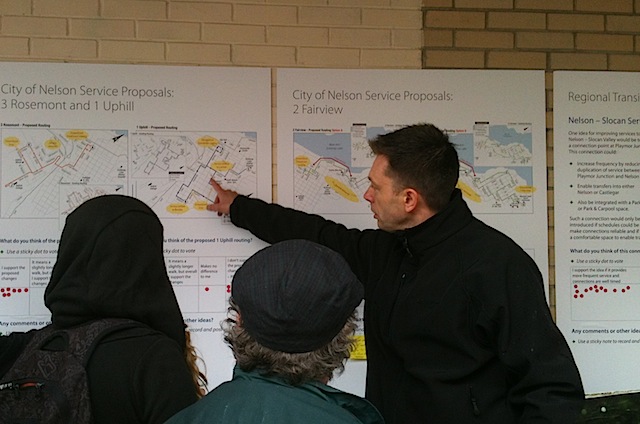 B.C. Transit set up a display at the Ward and Baker bus stop today, asking bus riders for their opinions on changes to routes and fares.
This  on-the-street approach was a refreshing contrast to Nelson City Council's usual method of getting public comment– closeting some senior managers in a hotel conference room in the evening, invisible and scantly advertised but expecting public feedback.
There will be another  transit session tomorrow (April 27)  in the Chahko Mika Mall between 9am and 1pm. Also, residents can take an online survey here until May 8.
"We've had a good turnout and lots of feedback, which is great because it will shape our report to City Council," said Kevin Schubert of B.C. Transit.
Schubert greeted people boarding and getting off the bus, engaged them in discussion about transit, and asked them to place red stickers on the display boards to show their preferences on a number of issues. 
B.C. Transit is the provincial government body that funds 47% of the cost of transit in B.C. It coordinates transit systems and provides transit expertise to local governments. 
New routes, regional fares, Sunday service
The display included maps of proposed new routes—separate routes for Fairview, Uphill, and Rosemont—and proposals for a regional fare structure. 
"We are getting a very positive attitude toward the changes being proposed," said Schubert, "especially regional fares—there is an expectation of a regional fare structure."  
"It's pretty clear that Sunday service is popular too," he said.  "You don't need to look at the board here for too long to see that." In fact the most intense cluster of red dots surrounded the word "Sunday."
Another issue for riders was scheduling. "We have too many examples of people coming in from somewhere and missing a connecting bus by 3 minutes," said Schubert.
Agreement needed from three government bodies
To achieve regional fares and scheduling, B.C. Transit will have to get agreement between the three regional transit systems in the area, run by the City of Nelson, the Regional District of Central Kootenay (RDCK), and the Regional District of Kootenay Boundary (RDKB).
Last weekend, Schubert presented a proposal to representatives of those groups, who were all attending the Association of Kootenay Boundary Local Governments in Trail. "There was a wholeheartedly positive response," he says, "and it is a no-brainer because it has not been a positive riding experience."
Participants in that meeting will take the B.C. transit proposal back to their respective boards for discussion and ratification. 
B.C. Transit will also report to Nelson City Council in June on the results of this week's public consultation.
The result could be a regional transit system and new routes in Nelson within a year.
For more detail and background, see a previous Nelson Daily story about transit.