Nelson's Barron grabs silver at B.C. Midget Cross Country Championships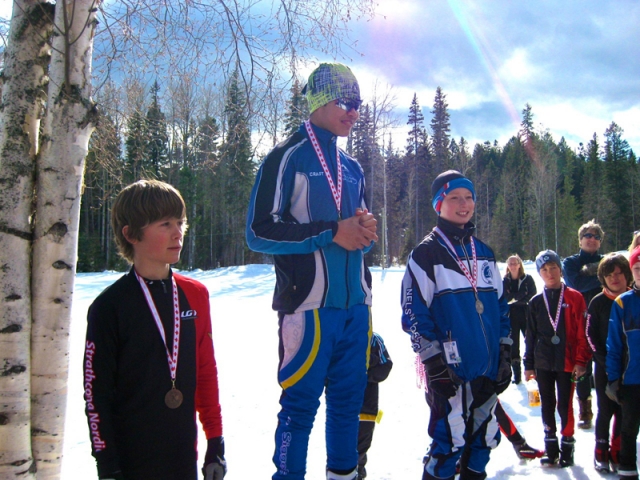 Quinn Barron of the Nelson Nordic Ski club captured a silver medal, just missing out on gold, at the recent B.C. Midget Cross Country Championships at Telemark, in West Kelowna.
Competing under sunny skies and temperatures that reached 8 degrees last Sunday, six young Nelson cross-country skiers raced against the best nordic skiers in the province.
Following a time trial and two heats, 12-year-old Barron took silver in the finals of the 400-metre freestyle (skate technique) sprints, beaten to the finish line by Travis Pete of Bulkley Valley only in the home stretch.
Nelson skiers Keiran Marchand, Jack McKimm, Ira McKimm, Sonje Boyd and Kluane Thompson-Peabody also represented the club well, boasting good times and strong style as they crossed the finish line.
Jack McKimm and Keiran Marchand came in 11th and 15th respectively, while Ira McKimm finished 15th, Sonje Boyd 23rd and Kluane Thompson-Peabody 22nd.
Saturday morning, the skiers participated in the 1.5km x 4 classic technique team relays as well as a two-kilometer mass start classic race.
With temperatures hovering just above zero, snow conditions were much less than ideal, making waxing very tricky.
Coaches Denise Uhrynuk and Roger Pratt, and wax technician Jay McKimm worked hard to get the kids and their equipment into top form for the races.
Over 200 young athletes attended the championships, which are essentially the provincials for athletes born between 1999 and 2002.
Teams come from all over the Lower Mainland, the Central Interior, the Island, the Okanagan, the Kootenays, and even the Methow Valley in Washington.
Athletes compete only against others born in the same year, and there is an emphasis on participation, fun, and good technique.
Nelson athletes and coaches alike marveled at the size of many of the other teams, some of whom have professional coaches and train up to seven days a week.
In the team standings, Hollyburn (Vancouver) took the top spot for the eighth consecutive year, while teams like Larch Hills (Salmon Arm), Strathcona (Mt Washington), Whistler and Telemark also showed themselves to be very strong.  
Also last weekend was the final race of the Kootenay Cup series for 2012, which was held in Rossland.
Despite a valiant effort and strong showings by a small, committed crew of Nelson skiers, including George Edney, Sophie Edney, Kim Poole and Jakob Dulisse, Rossland's Blackjack Club took back the Kootenay Cup, beating out both Nelson and Kimberley with an unprecedented and impressively high participation rate.
The nordic trails at Apex and Busk remain open with fair, spring snow conditions.