Nelson Council Hears Athletic Club Proposal for Civic Theatre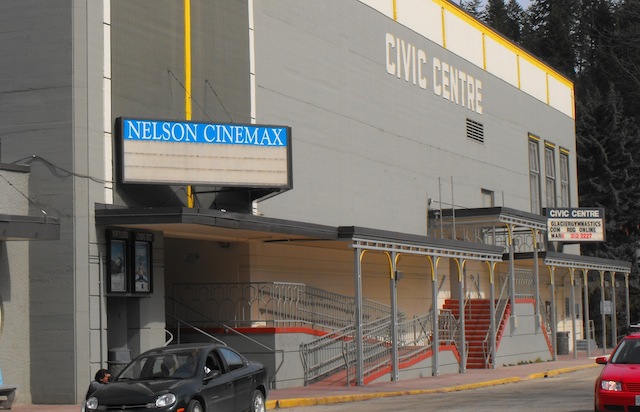 A local group wants to occupy the Civic Theatre as an athletic facility with three squash courts, two multi-purpose gyms, a climbing wall, and a lounge/social area. 
Tim Pearkes and Andy Leathwood presented the proposal to City Council on March 12 on behalf of the Nelson Downtown Athletic Club. The group is an amalgamation of the Nelson Climbing Association and the Nelson Squash Club.
If the city accepts the proposal, it would mean the end of the Civic Theatre as a movie or performance space because of the extensive renovations that would be required. The building has been vacant since September, 2010.
Requesting support in principle, not money
Leathwood and Pearkes said the group is not asking the city for funding, but would "take responsibility for all development and upgrades needed to convert this to a multi-use facility through a Board of Directors, manage the facility, and search out partnerships and grant opportunities."
They said they are asking the city for "your support and approval in principle for developing a more detailed financial analysis and plan to develop this facility, and the opportunity to explore a variety of rent/lease options and partnerships."
Short notice for cinema or performance venue proposals
On March 16 the City of Nelson published a Request for Proposals in search of a company or non-profit organization to undertake "creative reuse" of the theatre "as a cinema, or cinemas, and live performance," giving, in effect, only about 11 days for responses. The stated deadline for proposals is April 17, 2012, but the time frame is even shorter than that: applicants must attend a mandatory meeting on Tuesday, March 27 at the theatre site.
Leathwood and Pearkes acknowledged that their proposal did not fit within the parameters of theatre or live performance, but asked that their ideas be considered if nothing comes of the request for proposal process.
Dream versus reality?
It was acknowledged around the council table that many people want a movie theatre but Mayor Dooley said no one has had the innovative ideas and/or the money to make it work. 
One attempt by a private business to develop a movie theatre complex at the site in 2011 failed because of problems with financing. 
Added to the daunting cost of renovating the building into a modern movie or performance theatre is the reality that the internet and the movie industry itself have made operating a movie theatre with first run movies in a small town increasingly difficult.
"It's a very interesting proposal," said Councillor Donna Macdonald told Pearkes and Leathwood, "and I am interested in considering it, but I am first going to see what our RFP request turns up."
"It's historic"
"My concern is that business is leaving Nelson," said Councillor Robin Cherbo.  "My wife and I go to Castlegar, shop, go to dinner, and go to a movie." 
"There is a lot of emotion involved," Cherbo continued.  "It's a heritage theatre, it was the first theatre in Nelson in 1935. It's historic." He pointed out that Salmon Arm, Burns Lake, and Gibsons have cooperative theatres. 
Mayor John Dooley agreed but pointed out that so far no groups have come forward with any such proposals, and no individual has stepped up to champion the cause.
Squash and climbing: both homeless
Leathwood and Pearkes said the Squash Club, which has resided above the Royal Hotel for 27 years, has had its space reduced and may have to close because of re-development of the building. The Climbing Association has been active in Nelson for 20 years, first in the Civic Centre and then in the Whitewater building which was recently sold, ending the Association's lease.
"Both Clubs provide programs for all age groups," states their proposal. "School groups actively participate. The multi use area can occupy basketball, floor hockey, yoga, gymnastics, ping pong or the overflow from the Community Complex Programs." 
Regional District involvement?
"The Regional District of Central Kootenay (RDCK) does not contribute at all to the operation of the Civic Centre," Councillor Macdonald said to Pearkes and Leathwood, "so it would be interesting for you to pursue a partnership with them, because I assume some proportion of your users don't live in Nelson."
Drawings presented to council by the Nelson Downtown Athletic Club are reproduced in the gallery below. Click to enlarge.