Winter storm good for skiers, not so for drivers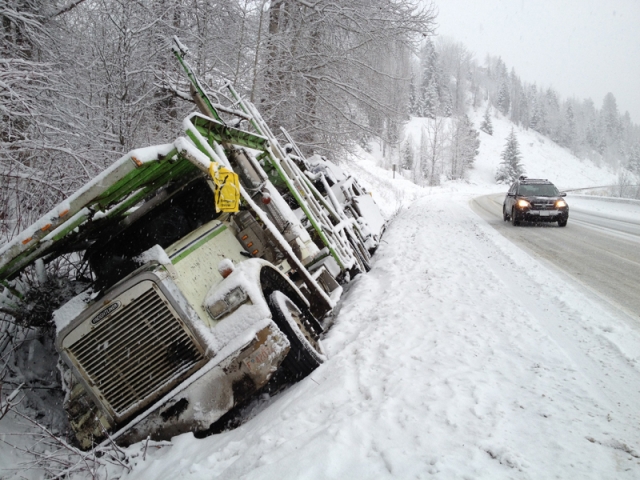 The winter storm that hammered the Kootenays Friday and Saturday was great for the Kootenay Coldsmoke Powderfest at Whitewater Ski Resort but bad for drivers as numerous accidents were reported throughout the region.
In Nelson no less than a half dozen of accidents were reported to Nelson Police Department of the fender/bender type.
The biggest headache came Friday afternoon when a seven-vehicle pileup occurred near Rosemont Elementary School on Crease Street.
A Nelson City bus was believed to be involved but the driver saw the on-coming mayhem and stopped the bus.
Some other accident reports happened at Stanley and Latimer Streets; Park Street below Kootenay Lake Hospital and near Josephine Street.
Nelson City Public works decided to stop the City transit buses at 8 p.m. after conditions became too severe for safe ridership.
On Highway 3A west of Nelson near Bonnington, an auto transport slid off the road Friday afternoon and was left until a tow-truck could be called to pull the semi, with two cars on his trailer, out of the ditch.
The snow dumped no less than 60 centimeters during the weekend at Whitewater Ski Resort making skiers participating in the 2012 Kootenay Coldsmoke Powderfest smiling from ear to ear.