Local businessman Dale Donaldson of Mallard's Source for Sports recognized for years of dedication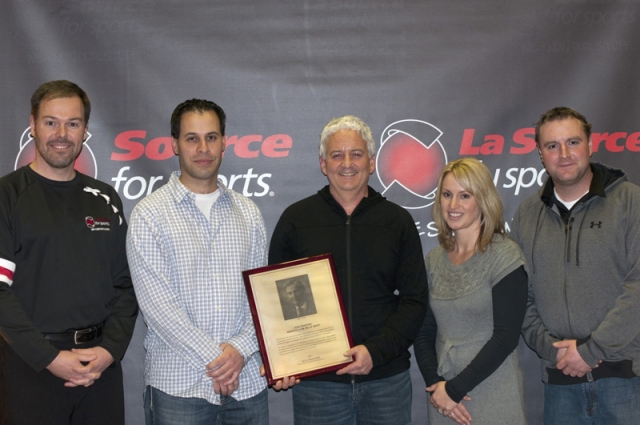 By Bruce Fuhr,
The Nelson Daily
Local owner of Mallard's Source for Sports Dale Donaldson was recently honoured with the 2011 John Buckner Memorial award during the annual Hockey Buying Show last month in Hamilton.
The award, in the memory of John Buckner, a strong advocate of Source for Sports and a mentor to all who knew him, is presented to the store or individual whose efforts and attitude have positively impacted the group.
Buckner passed away in 2007 at the age of 56.
"Being the recipient of this award was a complete surprise, and very emotional for me," said Donaldson, visibly moved during the presentation.
"It has been a real honour having known John and his family."
Donaldson, 50, has been a member of the Source For Sports buying group since 1986 and not only served on the ski committee for 16 years from 1987-2003, but also on the marketing committee.
The graduate of L.V. Rogers in Nelson in 1979, also served on the Board of Directors starting in 1993, and held the position as the Chairman of the Board from 2000 to 2002.  
Donaldson, married to wife Michelle for 24 years, started in the sporting goods industry when he was 15 years old at Ski Daddle in Nelson.
Dale and Michelle have two children, Alexander and Casey, who both now work in the business.
In 1984, Donaldson, with a nickname of "Mallard", started Mallard's in Castlegar.
In 1986 he joined forces with Source for Sports as well as opening the Nelson store on Baker Street.
In 1989 Donaldson opened a store in Trail but has since closed that operation.
Mallard's Source for Sports, a family operated business, has grown to be one of the leading sports outlets in the West Kootenays.
The president of the Castlegar Rotary, Donaldson has a tremendous interest in sports and is a humanitarian, often sending soccer balls or equipment to third world countries.
"That's something people don't know about Dale is he's always helping out people but never asks for recognition," a person close to Donaldson said.
During the Hamilton ceremony recently retired past president, Randy Hooper and a storeowner paid tribute to Donaldson for his "years of dedication to the group and the role he has played in its success."
sports@thenelsondaily.com