RCMP vehicle rolls near Grand Forks leaving officer injured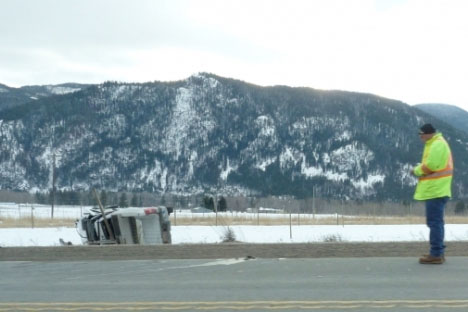 By Boundary Sentinel
Two vehicles were totalled after a collision between a marked RCMP vehicle and a Toyota Prius, Thursday, Jan. 26.
At about 1:15 p.m. a westbound Toyota Prius collided with an eastbound RCMP Chevrolet Sierra pick up truck at Collins Road and Highway 3, east of Grand Forks.
According to an RCMP media advisory, both vehicles landed on the south side embankment off the road.
Grand Forks Fire Rescue were first responders. It took them 45 minutes to extract the RCMP Constable from the vehicle.
Both drivers were taken to Boundary Regional Hospital where they were later released. The driver of the Toyota sustained no injuries while the RCMP Constable has minor injuries.
The police officer had been responding to a routine non-emergency complaint at the time.
Traffic was stopped on Highway 3 to single lane alternating traffic for several hours after the accident. An investigation is now being conducted by the West Kootenay Traffic Services, who also attended the scene.