Update: Occupy Nelson Camp experiences first taste of violence, NPD arrest intoxicated man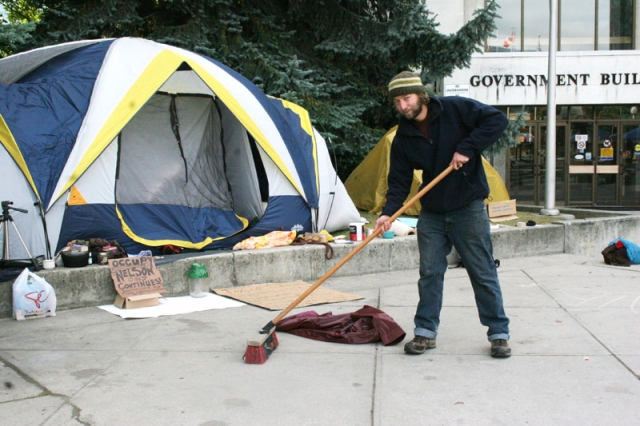 Nelson Police Department was called to an altercation involving two males Wednesday evening at the Occupy Nelson camp in front of Nelson City Hall.
At 7:30 p.m., NPD attended the scene where two males were engaged in a verbal dispute and disturbance.
NPD members conducted an investigation into the incident and it was alleged that a 25-year-old Nelson man entered the protest grounds in an intoxicated state.
Witnesses report the intoxicated male was approached in a peaceful manner by several protestors and asked to leave the area, given his state of intoxication. 
The intoxicated male then allegedly assaulted a 27-year-old Nelson resident protestor. 
The victim sustained minor injuries to his facial area.   
NPD members arrested the male suspect, who was later released on Court documents with conditions. 
The male is scheduled to appear in Nelson Court on January 10, 2012.
This is the first incident reported at the Occupy Nelson Protest Camp, which began Saturday following a parade through the streets of Nelson.
Occupy Nelson campers 'in it for the long haul'
The Bruce Fuhr
The Nelson Daily Staff
It's Day Five of an Occupy Nelson protest that doesn't appear to be going anyway any time soon.
"It's going to go for as long as we can keep it going," Occupy Nelson protester, Brett Rhyno told The Nelson Daily Wednesday from outside the front doors of City Hall.
"Most of us here are in it for the long haul."
Occupy Nelson camp began following a day of protest Saturday, October 15.
Hundreds of people marched through the city streets showing displeasure with the corporate establishment.
The rallying cry for Occupy Nelson, which is the same dominant message of marches that occurred the same day across the planet, is to raise awareness of the growing gap between the top one percent of income earners and the rest of society.
Rhyno is a Toronto native who moved to B.C. during the summer for work.
"I participated in a lot of demonstrations in the past but this is different in that it's an ongoing occupation," Rhyno explained.
"I feel it's a deep movement that is reawakening our sense of power in our communities that we are the 99 per cent of the world and we all have common goal and visions that we all want to realize."
Residents doing business in and around City Hall will notice tents erected on the lawns surrounding the sidewalk entrance.
There are also picnic tables pushed together topped with food.
Occupy Nelson holds daily meetings at noon and 7 p.m. to discuss any new ideas and to set an agenda for the next day. One focus is to find bathroom facilities for the occupants. The evening meeting attracts between 20 and 30 people.
The need isn't as bad during the day when City Hall, or local business, is open.
However, there is a need during the night.
"It's a concern to us and to the city as well," said 27-year-old Mike Hesla, a supporter of Occupy Nelson who lives in Heritage City.
Helsa, who met earlier in the morning with city officials to discuss the porta potty situation, was doing his part to keep the area clean by sweeping sidewalks.
"I like to leave a place better than I found it," said Hesla, part of Saturday's march through Nelson. "I want to make sure these people have the resources they need to continue the dialogue."
"To do that they need washrooms, food and shelter."
Occupy Nelson has earned praise from local police.
Nelson City Police Sergeant Howie Grant told The Nelson Daily the "everyone is being neat and tidy" and the people are "very accommodating".

"We're continuing to monitor the situation but so far there have been no problems and everyone is cooperating at this point."
Occupy Nelson camp could be on a collision course with Remembrance Day ceremonies Friday, November 11.
Hundreds of people generally attend the Nelson ceremonies.
"I believe their have been negotiations on that topic but we (at Nelson City Police) have not been part of those negotiations," Grant explained.
Occupy Nelson has scheduled a Community Potluck Saturday at 5 p.m. at the City Hall camp. There's a financial crisis workshop set for Sunday at 3 p.m.
The next big event after this weekend is a Corporate Zombie March scheduled for Friday, October 28th and 3 p.m.
Then, there's Old Man Winter, who is just around the corner.
"Right now we're going it a day at a time," Rhyno said when asked about the upcoming Kootenay winter and if the protest will still be going at Christmas. "Come back and ask us then."
sports@thenelsondaily.com