Banged up Bombers look to defend zone title Friday in Trail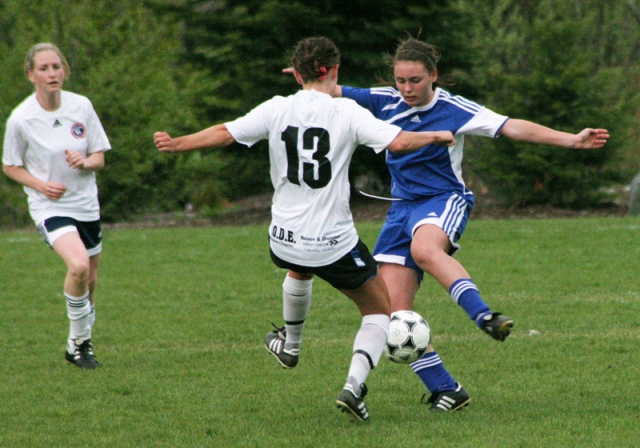 By The Nelson Daily Sports
The biggest prize of the High School Girl's Roundball season is up for grabs Friday in the Silver City as four schools compete for a berth at the B.C. High School AA Soccer Championship.
Defending zone champion, L.V. Rogers Bombers, enters the final four as the second seed in the Kootenay Zone Tourney.
Unfortunately, due a quirk in the regular season schedule — a quirk that saw two of the teams entering the zones not want to play the Bombers — LVR's West Kootenay schedule consisted of two matches against two Single-A teams, Mount Sentinel Wildcats and J.V. Humphries Eagles of Kaslo.
J. Lloyd Crowe Hawks, one of those teams refusing to play the Bombers, is the top seed and meets the winner of David Thompson Lakers of Invermere and Prince Charles Comets of Creston. The other team refusing to meet LVR is Stanley Humphries of Castlegar.
The game goes at 10:30 a.m. at J. Lloyd Crowe Pitch.
David Thompson and Prince Charles played Thursday with the winner advancing into the final four as the fourth-place team.
LVR, led by the dynamic midfield of Andrea Stinson and Taylor Stewart — the two were mainstays on the Kootenay Thunder Regional Team — meet Stanley Humphries Rockers of Castlegar at 10:30 a.m. at Haley Park in Warfield.
The Rockers won't be an easy mark for the Bombers, especially with the team nursing a few nagging injuries from too much action.
Many of the Bomber players are part of the Nelson Selects U17 squad that won the gold medal last weekend at the Terry Walgren Girl's Soccer tournament in Nelson.
The teams slugged it out through four games, with the final against Newport being decided in shootout.
The winners advance to the final at 2 p.m. at the Crowe Pitch.
The zone champ represents the Kootenays at the B.C. High School AA Girl's Soccer Championships June 2-4 in Port Coquitlam.
sports@thenelsondaily.com