Indoor champions crown at Soccer Quest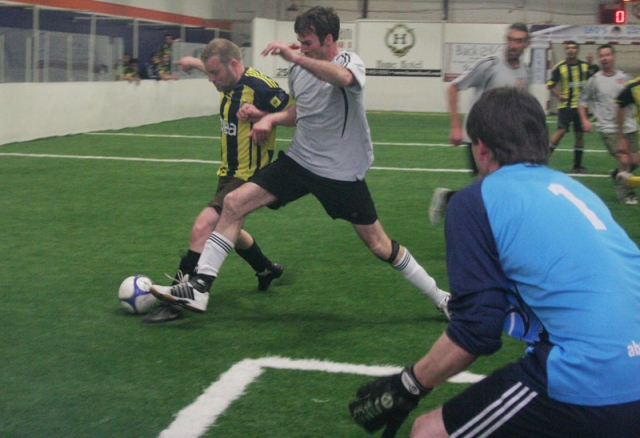 By The Nelson Daily Sports
Despite what Mother Nature is sending us from the skies above winter is over — meaning outside roundball soccer right around the corner.
Another sign is the end of the indoor leagues at the Soccer Quest facility in Nelson.
Sunday saw the conclusion of Finley's Co-Ed and Open Leagues.
In the Finley's Men's Open League, the Young Guns finally came of age as they outlasted Kootenay Co-op 8-6 to capture the League Championship.
The title made it a clean sweep for Young Guns, which edged out Co-op for the regular season title by three points.
Young Guns defeated The Action 4-1 in semi final play while Co-op edged city rival Innkeepers in the other qualifier.
In the Finley's Co-Ed League Neon Indians dumped Marshmallow Conspiracy 6-2.
The win concluded a banner season for Neon, which also took home the regular season title.
In Jackson's Hole Masters, Bia Boro scored four straight times to knock off Abacus 6-3.
The seesaw battle saw Bia Boro jump out to the early lead before Abacus scored three quick goals to grab a 3-2 lead.
After Cam Kuch tied the game at 3-3, the victors exploded for three goals to knock off the regular season champs.
Bia Boro, finishing third in the league, defeated Real Nelson 7-4 to advance to the final. It was the second straight season Real Nelson failed to capture the title.
Real lost in the final last season to Jackson's Hole.
Abacus defeated fourth-place Red Dog 7-3 in the other semi final.
In the final of The Bridge Ladies Rec League, Scornets built up a big 4-1 lead before holding off a late charge to defeat Creamers 10-7.
Scornets, with a short bench of players, jumped all over Creamers in the early going. But just when it appeared the Creamers would overcome the early deficit, the Scornets would restore the lead.

Outdoor Adult Leagues prepare of Outdoor Season
Once again the Adult Soccer League will be feasting on time at Lakeside Pitch during the spring and fall season.
Men's and women's leagues in open, recreational and masters will begin competition later this month at Lakeside.
For more information call Soccer Quest at 250.352-4625 or 250.551-5856 or email soccernelson@live.com
sports@thenelsondaily.com