Baby Sens, Kinrade suffer overtime heartache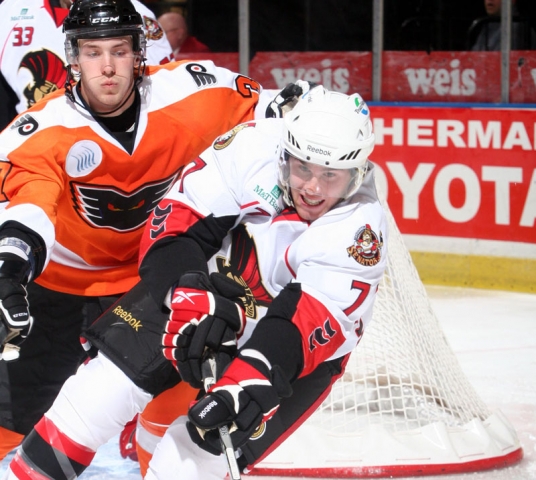 Bud Holloway scored in overtime to lift the Manchester Monarchs to a 5-4 victory over the Senators in American Hockey League Calder Cup playoff action Sunday in Binghamton.
The win gives the Monarchs a 2-1 lead in the best-of-seven series after the Baby Sens evened the set Friday with a 4-3 overtime road win of their own in Manchester.
Sunday's loss was tough to swallow for Nelson's Geoff Kinrade, a defenceman with the NHL Ottawa farm team, and the rest of the Sens.
Binghamton had jumped to a 3-0 first period lead only to watch the Monarchs outscore the Sens 4-1 to force overtime.
Binghamton held period leads of 3-0 and 3-2.
Kinrade, a graduate of Nelson Minor Hockey, is in his second season of professional hockey in Binghamton, has yet to gain a point in the three games.
Game four is set for Tuesday in Binghamton with game five also being played in the Sens' arena.
Friday Derek Grant scored in extra time to give the Sens a road split of the two games in Manchester.