Bombers take it on the chin at Wild Hoopfest in Cranbrook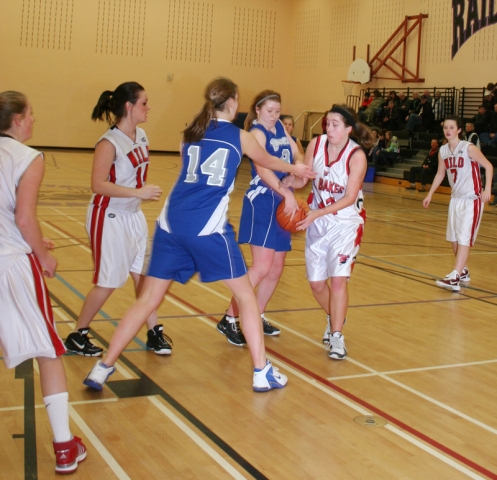 By The Nelson Daily Sports
The L.V. Rogers Bombers took it on the chin at the Mount Baker Wild High School Basketball Hoopfest Saturday in Cranbrook.
The Bombers lost all three games in the girl's side of the draw. The final contest saw the host Wild bounce the Bombers 70-38.
"We took a few steps back in our season progression," said a Bomber spokes person. "We now need to get some rest, work on a few things to prepare for the second half of the season that starts in January."
The Bombers, a double-A school, were matched up against some top caliber competition from Lethbridge and the East Kootenay.
Playing for the third time in less than 24 hours, LVR were no match against the highly skilled Wild. Baker jumped to a 19-6 first quarter lead and never looked back.
Katie Nutini and Taylor Lawrence led the Wild with 14 and 10 points, respectively. Sarah Fuhr, with eight points in the final period, led LVR with 16 points. Samantha Einarson added eight.
The Bombers lost a heartbreaker earlier in the day against double-A rival Golden Eagles.
Tia Sadler poured in 38 points, including 14 in the final period to break open a close game, to lead the Eagles.
The contest is the first since LVR knocked off the Eagles in the Kootenay High School AA Girl's Hoop final last season.
LVR started slow, trailing 12-9 after one quarter and 30-22 at the half. The Eagles increased the margin to 35-24 before the Bombers went on a 14-2 run to grab a 38-37 lead. However, the Bomber offence dried up allowing the Eagles to streak to the victory.
Fuhr had 20 points to lead the Bombers. Kyndle Doolan broke out of a scoring slump to net 12 points. Rachael Moulson had seven while Kiandra McLaren and Einarson each had four.
The Bombers opened the tournament against a high-powered 4A school from Lethbridge, losing 89-30. Fuhr scored 20 for LVR.
Next action for the Bombers is December 27 when the club hosts the annual Alumni game at 4 p.m. in the Hangar.
sports@thenelsondaily.com