Royals shutout Bombers to advance to Fieldhockey provincials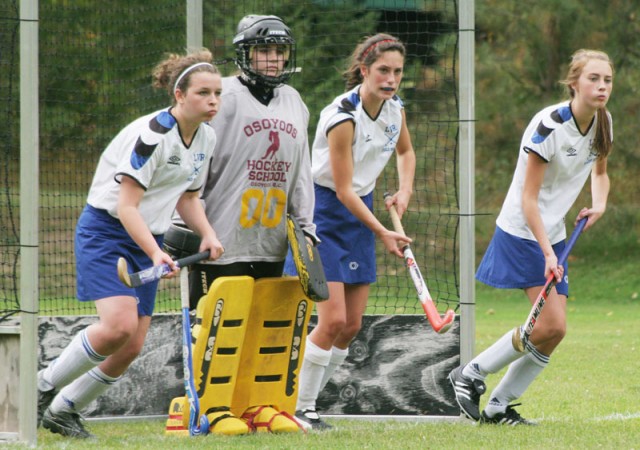 By Bruce Fuhr,
The Nelson Daily Sports
The L.V. Rogers Bombers saved its best for last, but that still was not enough to stop the Rossland Royals as the Golden City squad posted a 3-0 shutout in the West Kootenay High School Girl's Fieldhockey Championship Thursday at the Pass Creek Field in Castlegar.
The Royals now advance to the B.C. High School AA Girl's Fieldhockey Championships November 3-5 in Burnaby.
"I was going to register this team as juniors and ask the Grade 11 girls to wait a year to play," explained Bomber coach Val Gibson. "(But) these players gave all their energy in every game and developed some real team chemistry along the way. They have proved themselves to me and more importantly to themselves, as athletes and as wonderful people."
The Royals scored all the goals the winners would need just over a minute into the contest.
However, as much as Rossland pressed in the contest, LVR goalie Shelby Turk was more than equal to the task with numerous amazing saves.
"(Shelby) challenged every shooter and was outstanding in cutting down the angles," said Gibson.
Rossland added a pair of insurance goals, the last marker coming with time running out.
LVR saw players go down like soldiers on the battlefield as bumps and bruises finally caught up.
Morag Paterson was the first to go before the game started as the LVR Grade 11 star injured a finger during the semi final. Jade Jeffers was the next to suffer injury. Jeffers, playing the game with a broken finger, had to leave the field when she was struck on the same hand.
Tessa Vanderholt was then hit in the face with the ball forcing the tenacious defender to leave the game bleeding profusely.
To combat the injuries, Gibson received some outstanding play from co-captains Mykayla Commandeur and Sydney Zondervan along with Grade 11's Paige Mansveld and Ameeta Bhabra.
LVR advanced to the final by stopping Stanley Humphries Rockers of Castlegar 2-1.
Micaela Witton and Allie Chown scored for the winners. Chown's marker came off a wonderful cross through the circle form Zondervan and Mansveld.
sports@thenelsondaily.com