Ice skating on red hot blades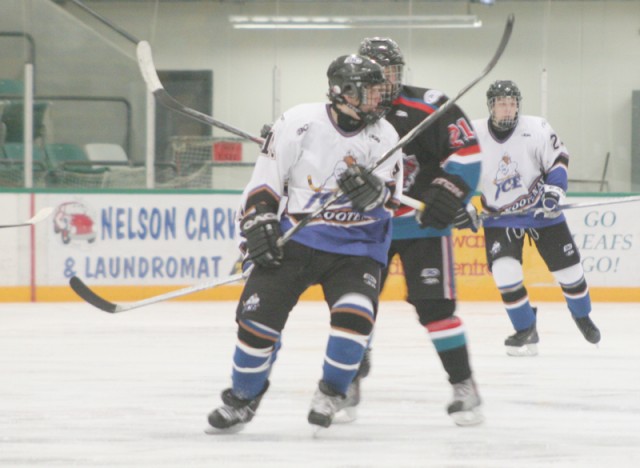 By The Nelson Daily Sports
The Kootenay Ice registered points in the last three games to move into ninth spot in B.C. Hockey Major Midget League standings.
Jesse Knowler of Castlegar scored three times leading the Ice to a 6-4 victory over the Thompson Blazers Sunday in Chase.
Saturday, the Ice and Blazers played to a 2-2 tie.
The Greater Vancouver Canadians lead the 11-team league with a 6-2 record. Vancouver Northwest Giants and Valley West Hawks are tied for second, one point behind the Canadians.
Knowler of Castlegar scored two of his three goals during a third-period explosion that saw the visiting Ice outscore the Blazers 4-2.
Trail's Jacob Boyczuk, Carsen Willans of Nelson, finishing with two points, and Cranbrook's Derek Georgopoulus also scored for Kootenay, improving to 2-3-1 on the season. Dryden Hunt of Nelson added two assists.
Saturday, a goal by Trail's Jake Lucchini early in the third pulled Kootenay into the tie. Thompson had nursed a 2-1 lead after one period before Lucchini tied the game.
Knowler had given Kootenay a 1-0 lead before Thompson scored two goals in a span of 11 seconds late in the opening frame. Willans and Joren Johnson of Nelson each added assists.
Jarrod Schamerhorn of Kelowna was in goal for Kootenay.
The Ice, one point out of seventh spot and only two behind the fourth-place team, look to build on the recent success when the club plays host to the Prince George Cougars Saturday at 5p.m. in the Castlegar and District Community Complex.
Sunday the teams meet for game two of the series at 9 a.m. in Castlegar.
sports@thenelsondaily.com