Wassick, Robert Henry "Bob"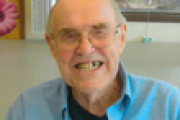 Wassick, Robert Henry "Bob"
September 1928 – May 2016
Born in September of 1928 and passed at Jubilee Manor in Nelson, in May 2016. Bob grew up with 2 older brothers and two younger sisters. His parents owned the Occidental Hotel (now Finley's).
Bob graduated from High School and then went to UBC graduating with a Bachelor of Physical Education with a minor in Biology. After obtaining a teaching degree he taught in Cranbrook, then two years at an American school in Tokyo, Japan and then worked on many cargo ships through China, Japan, Philippines, Malaysia, Indonesia, Australia and New Zealand. He visited Thailand, Vietnam, Burma and India. Travelling to England he taught in London for two years before returning to teach in Montreal. Later after going to BC to visit family he accepted a teaching job at South San Francisco High School, where he spent the rest of his career.
After retiring he gave driving lessons to seniors. In his late seventies he moved back to Nelson to be closer to family. He is predeceased by his two brothers, Rich and Harry (Red), and survived by two sisters, Betty Agnew and Dorothy Anderson.
The family would like to thank all nurses, care aides, activity coordinators, kitchen staff, housekeeping, and Dr's Bridger and Janz for all of their care and compassion!!!
A gathering will be happening at a later date.