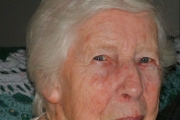 TRIOL, MYRTLE ALICE
After a full life, at the age of 95, Myrtle Triol entered her eternal rest on the morning of May 11, 2014.
Born the middle child of Henry and Martha Robinson of Dome Creek B.C., she lived with her family for the first two decades, near the train line that connected them to Prince George. She then moved on to Trail B.C.
There she met her future husband  William Triol, raised her family and enjoyed many years of good times and hard work, active in her church community and service groups before moving to Nelson in the mid 90's.
Myrtle was predeceased by her husband Bill after 48 years of marriage. She was the last of her 11 siblings. She is survived by her son Bill Triol Jr and daughter Colleen (Aldo) Doratti, her grandsons Michael and Patrick and many extended family members. Her cremains have been laid to rest in the Nelson cemetery.
All who were close to her remember her gentleness, her kindness and her listening heart. She was a hard worker and a peacemaker. A tea drinker, gardener, knitter. We'll never forget those wonderful homemade pies! She loved animals, roses and pansies, the seasons, hot stew, visiting friends, curling, badminton, bowling, playing bridge. And she loved her family deeply. We will always love her.
The family would like to extend our appreciation to Dr. Paul Walker and Dr. Trevor Janz and to the wonderful Caregivers and Staff at Jubilee Manor for their compassionate, loving presence in Myrtle's last years.